… that so many of you are amused by my father. I told you he was nuts. 😀 And yes, I've been working on the hat, but no, there will not be pictures until he gets it. I want him to be surprised.
In other news, I promised pictures of the RAK that Ali sent me, and I finally have one for you.

As you can see, the woman went crazy sending goodies to me! There is a pair of candles in "Asian Musk", which smells absolutely lovely, a box of Hazelnut Praline Godiva biscuit, a Godiva chocolate bar (72% EXTRA Dark with Almonds – woman knows me well!), a pair of Swarovski sheep magnets, which are too cute to be believed, a bar of Coconut soap (yummy!), a magnet that says "Ever notice how 'What the hell' is always the right decision?", and two hanks of Blue Sky Alpacas Cotton, in pale blue and a raspberry pink.
Thank you, Ali!!! You are too sweet, and I meant what I said about hoping to meet you one of these days! I owe you a huge hug for this!!
In other mail news, Mary, Mary had a little destashing goodie bag giveaway a couple of weeks ago. I joked with her that I thought about throwing my hat in the ring, but thought that I had plenty already. She told me to go for it, and tempted me with sari silk. Being the strong-willed type that I am, I completely caved. *blush* This arrived the other day: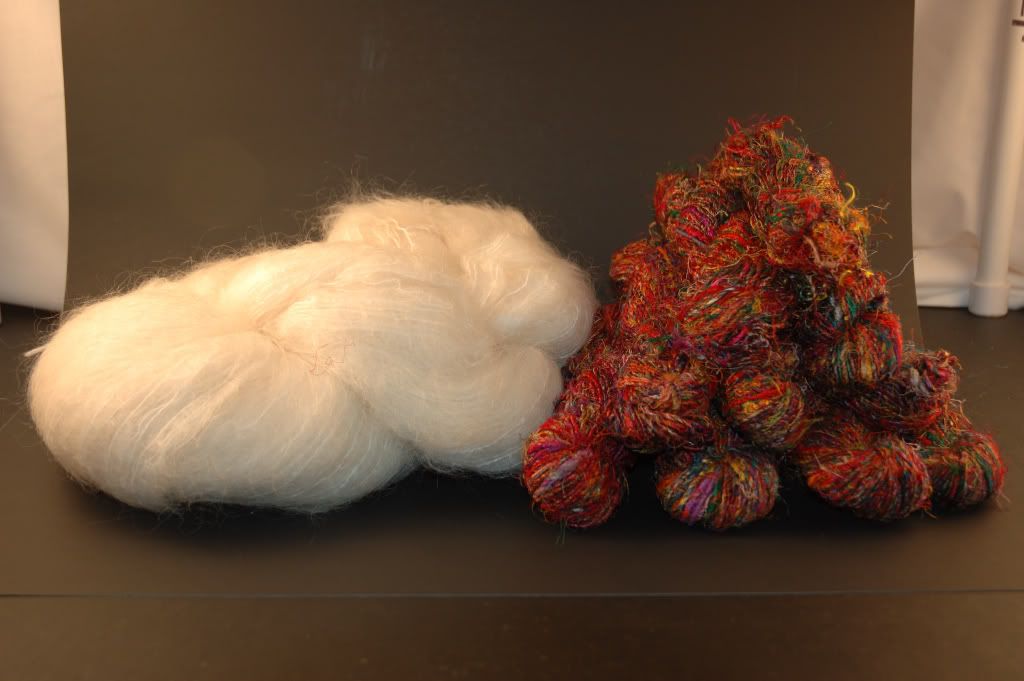 The aforementioned sari silk (10 hanks!) and a cloud of undyed mohair, which she thought would make a nifty throw dyed to coordinate with the sari silk and alternating the two. I am seriously considering that idea. Thank you Mary!!!
Finally, yesterday's mail brought me the last package from the BMFA Rockin' Sock Club 2006.

On the left, the December yarn – STR Lightweight in "Mustang Sally" – and on the right, my bonus skein for doing the full-year club – a hank of mediumweight "Rare Gems", what they call mistakes that they overdye to come up with something unique. I got a perfect skein for me – lots of greens with some blues and golds mixed in. I've really enjoyed the club, and I'm looking forward to next year!
And I realized something today. Tomorrow is my two-year blogiversary. I started out over on LiveJournal on Dec. 18 2004, and moved to Blogger on October 10, 2005 so that I could play with the layout and stuff a bit more. (And no, I didn't move the first couple of posts over from LJ. They were completely lame.). It seems weird that I've been doing this for 2 years already!