Or, if you prefer, "Catsup". 😀 Yeah, it's another catch-up post. And there are a LOT of pictures. If you're on dialup, you might want to go get some tea. Or possibly lunch. 😀
First, my overdue Fiber Stash Flash: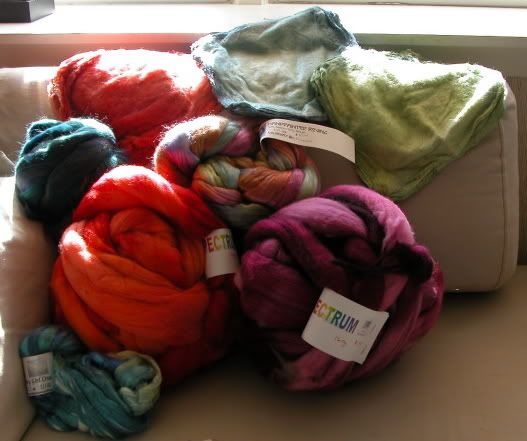 Across the top, three silk hankies from MD Sheep and Wool. Below that, some lovely roving from my Knittyboard SP6 bylt, and some merino/tencel roving from Blue Moon Fiber Arts (also from MDS&W). The two giant balls of roving are ones I picked up at Springwater Fiber Workshop, and the little bundle in the corner is some Gypsy Girl silk I got at (all together now) MDS&W. So, yes. That's my pitiful fiber stash. 😉
ETA: The "beach balls", as Avrienne so accurately described them, are 13 oz (orange) and 16 oz (purple) of fiber. I've got lots to spin there. 😀
Next, I want to show off the AWESOME handspun that Morgsarah sent me.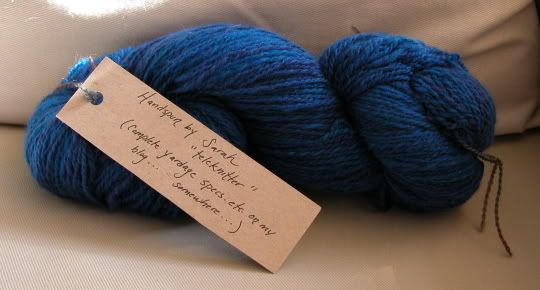 This was my prize for winning her "Guess The Mystery Fiber" contest. Isn't it beautiful? (And how thankful am I that she didn't spin the actual mystery fiber – it was horse poo) I have to find something really awesome to make for myself from it – per Sarah's blog it's about 490 yards of sport/fingering weight yarn. I'm open to pattern suggestions!
Courtesy of Nimrodel's blog post on her Patons SWS Fuzzy Feet, I was doubly inspired. I've wanted to check out that yarn for a while now, and I think I'm the last knitter alive who hadn't made Fuzzy Feet. Besides, Kris is jealous of the ones Turtlegirl sent me (Ack! I don't have a picture of them! Must remedy that!). So, Betsy and I picked up some SWS and knit ourselves silly while the boys watched football on Saturday. The result, post-felting: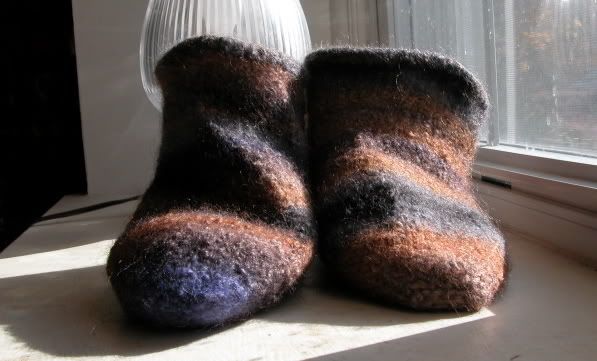 Fabulously mis-matched stripes and all! There's only one small problem. This stuff felts like a mofo, and these barely fit MY feet, let alone Kris's. So… back to Michael's I went.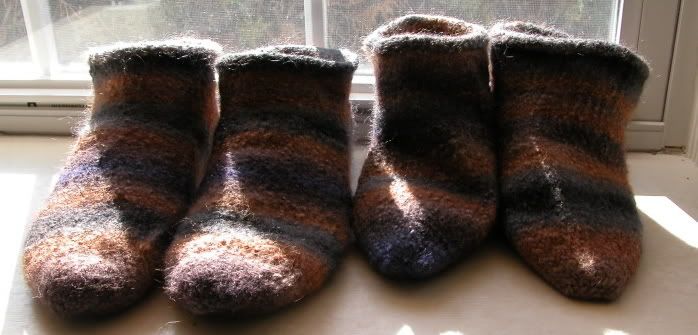 On the left, the new pair, which actually FIT him. I had to make them almost 20″ long before felting them. They looked really, really silly. But they fit now, and he likes them a lot. It's hard to see in this picture, but the stripes actually matched on the second pair – completely by chance! Incidentally, I love the yarn, and I am going to use it again for sure. Possibly for more Fuzzy Feet for the family.
And finally, what y'all have been waiting for – Stitches loot! Betsy and I had a complete blast. I had two great classes – The Joy of Steeks with Maureen Mason-Jamieson (LOVED her, LOVED the class, and no longer do I fear the big bad steek!) and Dive Into Design with the divine Fiona Ellis. And yes, I took my copy of Inspired Cable Knits and asked her to sign it, which she did. Yay! Seriously, though, if you have a chance to take a class with either of them, I highly recommend it. They were both lovely, and genuine, and REALLY good teachers. I can't wait to take more classes next year!
We spent plenty of time at the Market (duh), both Thursday evening and Friday morning (having met up with Alice and Roxy and Lisa, who doesn't have a blog). We originally debated heading home after our classes on Thursday, but decided to stick around for the Victorian Lace Today fashion show and the Market preview, and I am really glad we did. Not long into the fashion show, we both looked at each other and said, "We are SO getting that book". We also got them signed by the very sweet Jane Sowerby, who was too funny talking to Betsy about the yarn she had picked up. (She was apparently slightly horrified that such a gorgeous green yarn would be called "Pond Scum". 😀 ) We checked out the Lisa Souza booth (Met her, loved her. She's really cool.), and the Blue Moon Fiber Arts booth (Met Kaci – really fun), where we chatted in line with the two women in front of us, who were absolutely hilarious.
So, you wanna see what I got? 😀
First – books (and patterns).

Lucy Neatby's Sea Lettuce Scarf (we saw a woman working on one Thursday morning, and it's way cuter than the picture on the pattern shows), the Top-Down Sweater Unpattern (Recommended by a random knitter Betsy was chatting with while she ran to the Market to get a copy of Inspired Cable Knits to have Fiona sign it. I was looking for a good top-down idea for something for Kris), the aforementioned Victorian Lace Today, Barbara Walker's Knitting from the Top (again, planning the project for Kris) and Cat Bordhi's Treasury of Magical Knitting and Second Treasury of Magical Knitting (I've wanted to check them out for ages, but can never find them locally. So, when I saw them and flipped through them, they came home with me.)
The Lisa Souza stuff. Now, I see why people rave about her colors. Left to right, fingering weight in "Blue Spruce", Sock! Merino in "South Pacific", and laceweight in "Emerald City". I blame Betsy for that last one – she spotted it, and you knew I wasn't going to leave it there with that name! I did pick up one other thing there, but it's on its way to Turtlegirl at the moment. Hopefully, it will appear on her blog soon.
Blue Moon Fiber Arts! Socks That Rock in "Fire on the Mountain", Seduction (merino/tencel) in "Puck's Mischief", and Sock Candy in "Prickly Pear". I was looking for STR in "Ruby Slippers" or "Emerald City", but no luck. Someday, they will be mine! Interestingly, when I talked to Alice Friday morning as we were heading in, she had just picked up some STR. In "Fire on the Mountain". Great minds think alike, I guess!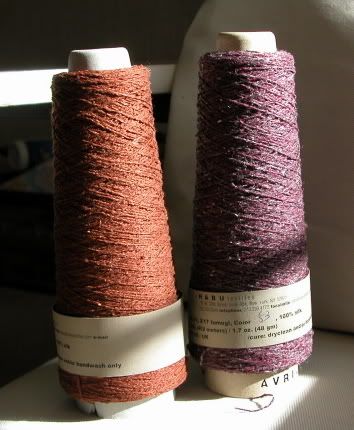 Habu Textiles Tsumugi Silk in 14 (the deep rusty orange) and 53 (the yummy tweedy purple). Inspired by a couple of patterns in Victorian Lace Today, Betsy and I both picked up some of this. It's really beautiful stuff.
OK, this is a story. We left Habu and walked over to the Tess' Designer Yarns booth, where Alice was looking at a tag hanging next to some nondescript gray yarn. When we got closer, she asked us if we thought the tag said "Undyed alpaca, 50 yards, $3" or "Undyed alpaca, 150 yards, $3". We thought it looked like 150, but decided to check. We were right. That's right – 150 yards of DK-ish soft grey alpaca for $3!!! I bought 10. It's going to be something fabbo for me.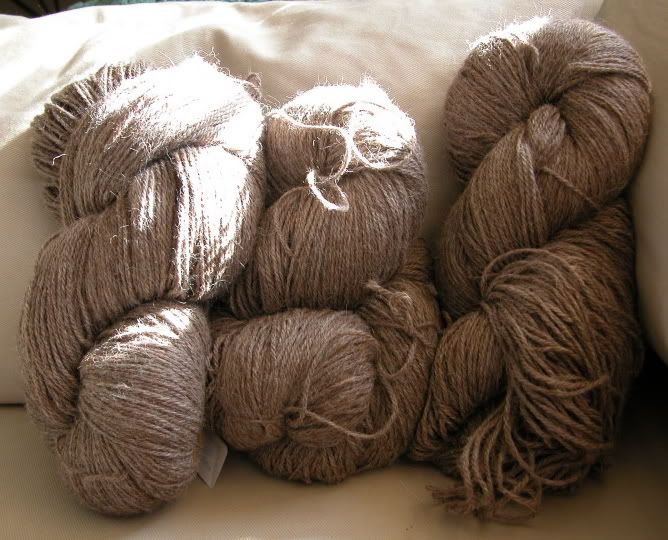 More undyed alpaca, this from the Yarn Barn of Kansas, in a lovely malt color. It will be something for Kris (hence the looking for a top-down pattern). It's gorgeous, and so very, very soft.
Also from the Yarn Barn, their Moriah laceweight. That, folks, is 2520 yards of undyed laceweight wool for me to play with. Hee.
And finally, I found this silk scarf kit at the Fiberworks booth. The silver/turquoise combo just grabbed me. So, I grabbed it. 😀
And never fear, pr0n fans. Kris and I will be working this evening, and you'll get pr0n shots of all of this for the next couple of weeks, I promise.