OK, I finally remembered to scan in the picture of the sweater I am doing for the Grey's Anatomy KAL.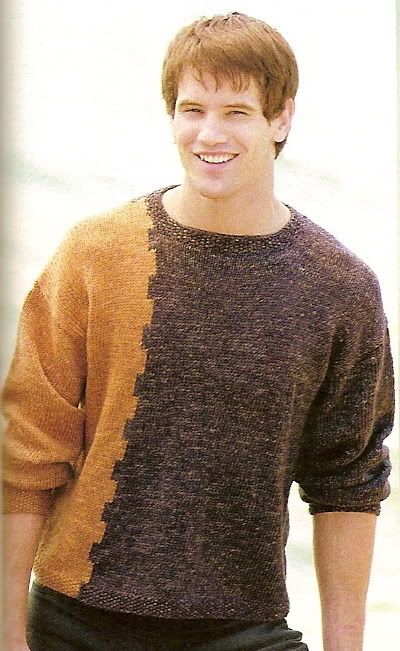 The Handyman sweater, from Knitter's Fall 2005 issue. The dark brown part will be done in black, and the mustard-yellow part will be done in grey. Woo hoo – my husband, the fashion wild man. 😀 (See also his Satchel and Cigar gloves)
I originally picked this sweater pattern for him because he does love woodworking, and the dove-tail-like detail where the colors meet up just seemed kinda cool. And since he decided on the grey/black color scheme, it is a perfect fit for the Grey's KAL. Plus, this means I'll finally make the dang thing.
OK, off to check on the chili I'm making for tonight's dinner!
Oh – and anyone who is having formatting issues with the blog – I have no idea what is going on. I'm not seeing anything weird here, and I've tried to size the pictures down as best I can. Hopefully it will clear up soon. Until then, I'm sorry!