So, I ran around the house taking pictures of our bookshelves, and although my first inclination was to post pictures of each individual shelf, I realized that it would be a LOT of pictures, so I cut back a little. As it is, this is going to be a long post. Click 'em if you want to see bigger versions.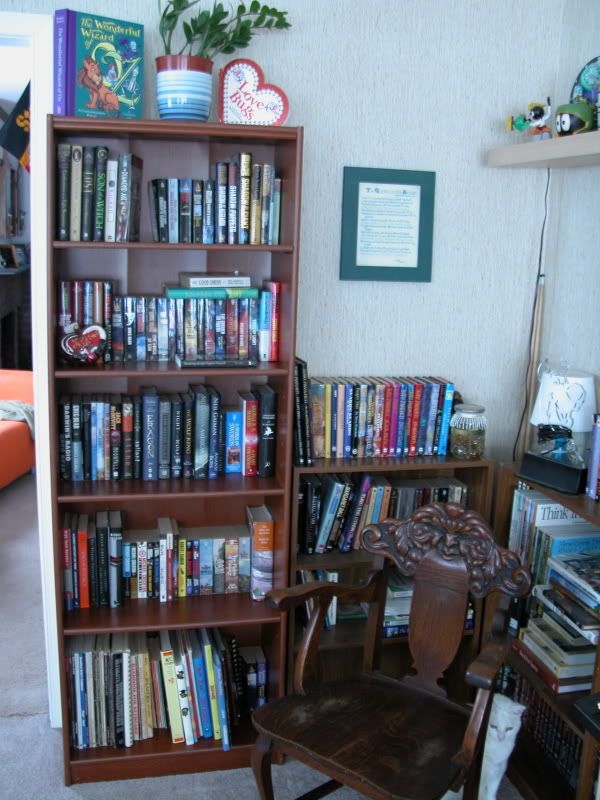 Bookshelf #1 (the tall one) – On the top we have two pop-up books: The Wizard of Oz, which Kris gave me for Christmas a couple of years ago, and Love Bugs, which I gave him for Valentine's Day a while back. And the only plant I have kept alive for more than a month since I was a kid.
Top shelf: Gregory Maguire, Neal Stephenson (although Snow Crash and Cryptonomicon are currently lent to a friend, so there is a gap there), Orson Scott Card (I LOVE the Ender series), plus The Princess Bride, The Silent Gondoliers (also by William Goldman), and The Neverending Story (Although not as cool as the copy I took out of the library as a kid – the real world was in red text, Fantasia was in green. Or maybe vice versa…)
Second shelf: Kris's SciFi collection – Asimov, Greg Bear, Arthur C. Clarke, Gregory Benford, plus The Darwin Awards II and George Carlin's Napalm and Silly Putty. And stuck on top are Good Omens (GREAT book. SO funny!) and Julie and Julia. In front is Walking through Virginia's Vineyards, written by a guy Kris used to work with.
Third Shelf: More SciFi, although this is more of my stuff. Includes Holly Black's Tithe and Valiant (Which reminds me… I should see when Ironside is coming out. Crud. Not until spring.), Alice Borchardt's Wolf trilogy, two of the George R.R. Martin A Song of Ice and Fire series, and Jonathan Strange and Mr. Norrell, which took me forever to read, but I adored.
Fourth Shelf: Geek books! High Tech Heretic, A Brief History of Time, The Tao of Physics (all Kris's), Brian Greene's An Elegant Universe and The Fabric of the Cosmos (both mine – made my brain hurt, but I loved them anyway), Kris's Michael Crichton books, a few Jonathan Lethem titles, more random SciFi, and the Clan of the Cave Bear books. (Anyone else read these? I loved the first three, tolerated The Plains of Passage, and forced myself to finish The Shelters of Stone. Ugh. It felt totally forced.)
Bottom shelf: Music books and some random coffee table books.
Bookshelf #2 (the short one): On top, most of our Discworld books. We love these books. I had to make Kris reading them at night, though, because he would start laughing out loud, which either distracted my from what I was reading or woke me up.
Next shelf: More SciFi and fantasy (sensing a theme?), plus my Wrinkle in Time books and some classics (Les Mis, Sense and Sensibility, etc.)
Next shelf: random mishmash, including some of the info we picked up when we were first looking into adoption several years ago (obviously, we didn't make any progress on that)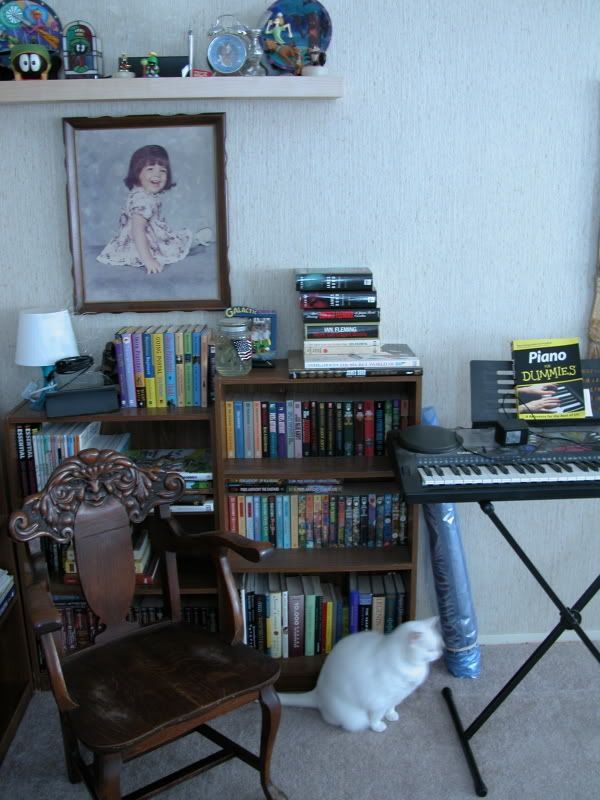 OK, yes, first of all, that is a picture of me at age one on the wall. It used to hang in my parents' house when I was a kid (talk about embarassing for a high-schooler), and when Mom gave it to us, Kris made me hang it up.
Anyway, Bookshelf #3 has the remainder of the Discworld books on the top, comic strip collections on the next shelf, more random SciFi and some sign language books on the third shelf, and TONS of DragonLance books on the bottom. (We both read some, but I'm pretty sure there are a bunch of them that never even were cracked open)
Bookshelf #4 has Kris's James Bond books on the top (some of which were originally my paternal grandmother's and my dad's), Piers Anthony's Incarnations of Immortality series (Love, love, LOVE this series), Apprentice Adept, and Geodyssey series on the first shelf, his Xanth series on the second, and an assortment of New Age books (Astrology, aromatherapy, dream interpretation and such) on the bottom.
Oh, and a blurry Rowena running away, because that's what she does. 😀
Two bookshelves full of further proof of our immense geekiness. On the left, Spongebob sits on my Douglas Adams books, accompanied by a Beanie Baby dragon and pterodactyl. Top shelf: My Shel Silverstein books, and the Brian Jacques Redwall books.
Next shelf, my kids book collection – some funny picture books, including some very funny John Scieszka books, Little Women, Little Men, and Heidi and a few others (all from my own childhood), and the Spiderwick Chronicles.
Next shelf: Random fiction, includes The Amazing Adventures of Kavalier and Clay, the Tales of the City books (except Sure of You, which I just re-reading finished last night and haven't brought back down yet), and the Dan Brown books.
Third shelf: Theatre books. Some old texbooks from acting classes, scripts, monologue books, and one-act anthologies.
Bottom shelf: Kris's home and auto repair/maintenance books and my yearbooks.
On the right bookshelf, the top three shelves are all Lord of the Rings stuff (Obsessed? Us? Noooooo!) The next two shelves are my Arthurian Legend books – The Mists of Avalon et. al., the Pendragon Chronicles, T.H. White's The Once and Future King, and some non-Arthurian fantasy, like Robin Hobb's Liveship Traders trilogy, and James Alan Gardner's Explorer Corps series.
The bottom shelf holds Phillip Pullman's His Dark Materials trilogy (technically, Kris's Mom's… I should probably see if she would like those back), and some great alternative history stuff by Harry Turtledove.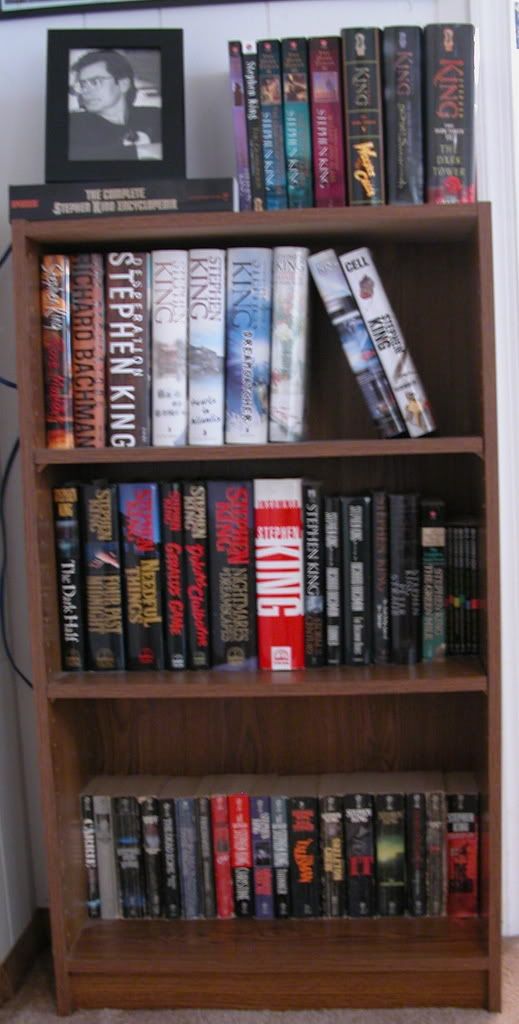 My Stephen King books. As in, everything he has written, with the exception of On Writing, Cycle of the Werewolf, and The Colorado Kid. For several years when we were kids, Tom would give me the latest Stephen King book in hardcover for Christmas. I think he bought me from The Dark Half through Desperation and The Regulators. Eventually, I started buying them myself, because I was too impatient. Plus, I was working at Barnes and Noble the year Bag of Bones came out. No WAY was I going to be able to resist when it was right there AND I had a discount.
Oh, and that framed picture? Yep – that's an autographed photo of Stephen King. My senior year in high school, I did my final paper for English class on the appeal of his books, and my dad mailed him a copy of it. He sent me the picture in return. I had no idea Dad was sending it, so it was a total shock to me when it arrived. My Dad is pretty cool. (Even though he NEVER updates his blog)
And now we get to the cookbooks. I love to cook, and I collect cookbooks. They once filled one shelf. Now they live in the kitchen on our biggest bookcase PLUS a shelf of my baker's rack.
My "I watch these people on TV" books – America's Test Kitchen, Wayne Harley Brachman, Alton Brown (*swoon* I adore him…), Shirley Corriher, Tyler Florence, Ina Garten, Nigella Lawson (cannot WAIT for her new show on Food Network!), Jamie Oliver, and Rachael Ray – my go-to girl for just about any meal. She's a little overly perky for me to watch regularly anymore, but her recipes still kick butt.
Left half of the big-ass oak bookcase: chocolate cookbooks, ice cream cookbooks, ethnic cookbooks (Thai, Chinese, and Korean, specifically), plus a bunch of fun ones like the Sopranos Family Cookbook, Cooking with Friends (Yes, the tv show. It has the best lasagna recipe EVER.), and a cookbook from Ukrop's, our old grocery store in Richmond. Plus a big accordion file of recipes from Food Network.
Next shelf down is mostly baking and appliance cooking – pressure cooker, Crock Pot, and bread machine (which I don't even own anymore… can anyone use this?), plus a few more Food Network folks, like Emeril, Bobby Flay, and Ming Tsai (Hey, the shelf got full. Someone had to move)
The bottom shelf has some cookbooks from our year as vegetarians, and a bunch of random cookbooks that are mostly compilations of recipes from food companies. (One of those holds the best turkey chili in the world. And it's about that time of year again…)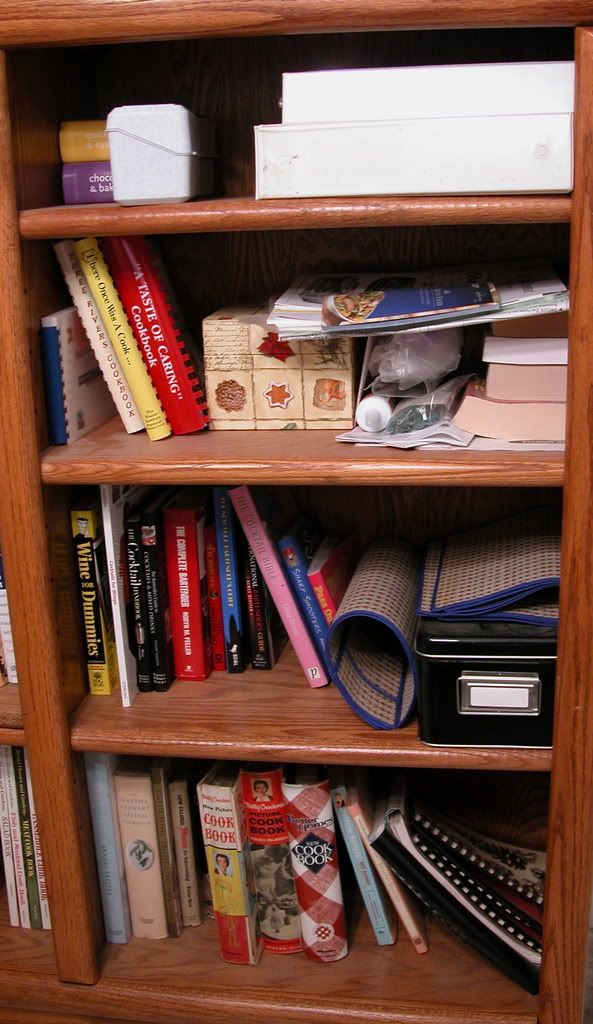 And the right half of the big bookcase: mostly random cookbooks, including some fundraiser ones like the million-year-old Three Rivers Cookbook (My Mom used to make stuff out of this when I was a kid, although I think this might actually be my Grandmother's copy) and "A Taste of Caring", which my former neighbor in Richmond gave me (she worked at the hospital that was selling it), our bartender's guides and wine books, two different ancient copies of the Betty Crocker Cookbook, and a new version of the Better Homes and Gardens Cookbook. Plus two notebooks of Food Network printouts and a recipe file of more stuff from their website.

And finally, my knitting books. (No, I'm not taking a picture of all of Kris's computer books, so you don't get to see those.) One notebook of articles from various issues of Knitty, three notebooks of patterns from Knitty and elsewhere, and one notebook of everything I might want to know about socks, including patterns. And a ridiculous number of knitting books for one person to own. I have a lot of difficulty walking away from a new knitting book, as you can no doubt see. Pretty soon, I'm going to have to ask Kris to build me another shelf for them.