OK – I'm going to post these today to try to get myself at least slightly more on-schedule for this, especially since I'm going to need a buttload of pics for my bookshelves…
Some of you may be aware that I went to a small college in Pennsylvania. Specifically, Westminster College (Go Titans!). It is a beautiful campus, and I loved it there. One of the neat things (which I believe has since changed) that Westminster had was a 4-1-4 schedule. Fall and Spring were typical semesters, where you took 4 classes. January was a separate term, and you only took one class. For education majors and minors, one of these J-Terms would be field experience (observing a class for the month), and a lot of people took at least one J-Term as a travel class. My cousin spent January travelling around Europe one year. My freshman year, the Theatre Department used January to rehearse and stage a production of "The Man of La Mancha". Once the show was up, we had classes for about a week and a half on the history of the American Musical. It was awesome.
Anyway, my sophomore year J-Term (January 1993), they offered a class called "Literature on Broadway". We spent three weeks in class, reading "Phantom of the Opera", a really crappy abridged version of "Les Miserables", some Damon Runyon short stories, and watched "Madama Butterfly". Then we went to NYC for a week. While there, we saw Phantom, Les Mis, Guys and Dolls, and Miss Saigon. (Let me mention once again that this was FOR CREDIT.) We also got to tour Radio City Music Hall and some other touristy stuff. The nice thing about being there as college students was that we were much less chaperoned than on, say, a high school trip, so we were allowed to go to shows and things on our own. Three friends and I bought tickets in advance to see Falsettos and then went to Sardi's for dinner one night. Another group of us went to a matinee of Jelly's Last Jam starring the amazing Gregory Hines and a young kid named Savion Glover (This was back when most people who knew him watched "Sesame Street"). Just an awesome week.
So, anyway, my pictures:

The girls with one of the Radio City Rockettes. Shockingly, the 4 guys in the class opted not to pose with us… Can you find me? I apologize right now for the tight-rolled jeans. Again – 1993. I stuck with it longer than I should have because when combined with slouchy socks, it was a good way to camoflage too-short jeans, which was an issue back then. "Tall" jeans were hard to find.

It's not the best picture, but the woman in the velvet hat is the amazing Faith Prince, who was playing Adelaide in Guys and Dolls at that point. And my goodness, my hair was shiny… (The guy in the back is my friend James Geogehan, who I haven't seen since he graduated that spring and who will probably be completely freaked if he Googles his name and finds this. 😀 )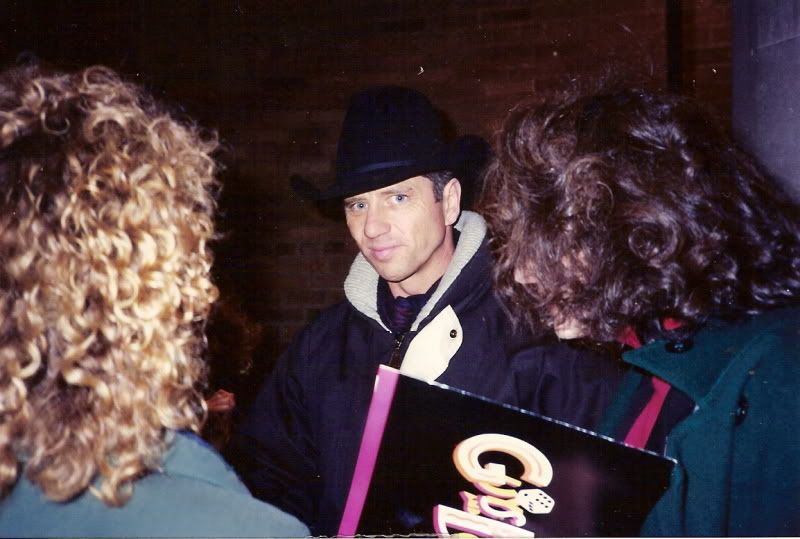 And the amazingly sweet and friendly Tom Wopat. Yes, folks, I met LUKE FREAKIN' DUKE! I was always a Luke girl back in the day when everyone was crushing on Bo/John Schneider, so this was particularly delicious to me. He was so nice to all of us, signing autographs and posing for pictures. He left shortly after, and a few of us stuck around (I think everyone was going to the Empire State Building, which we skipped) to catch Faith Prince. A few minutes later, he walked back up the other side of the street carrying a 6-pack and stopped to wave at us. Soo cool…
Oh, and thank you for the comments on my "Friendship" post. Like I said, I'm not going into details here (if you REALLY need to know, PM me on the Knittyboards, or read my post on this page, and that will give you a pretty good idea of what has been going on), but I will say that I am honestly doing fine, and that this was more than a simple case of friend growing apart. This was flat-out betrayal in the worst possible way. Which has made me appreciate true friends that much more.