Hee… yeah, because I have a public. =) Seriously, you guys crack me up.
Anyway, nothing much going on here (No, Cristi, seriously), but I do have a couple of pictures to show.
First – I joined the Monthly Dishcloth KAL, and the mid-month one for August was the first pattern I did. (I skipped the beginning of the month one). Happily, the pattern came out right about the same time that I got some Sugar 'n Cream in a swap. So, I cast on, and a few days later,I had this: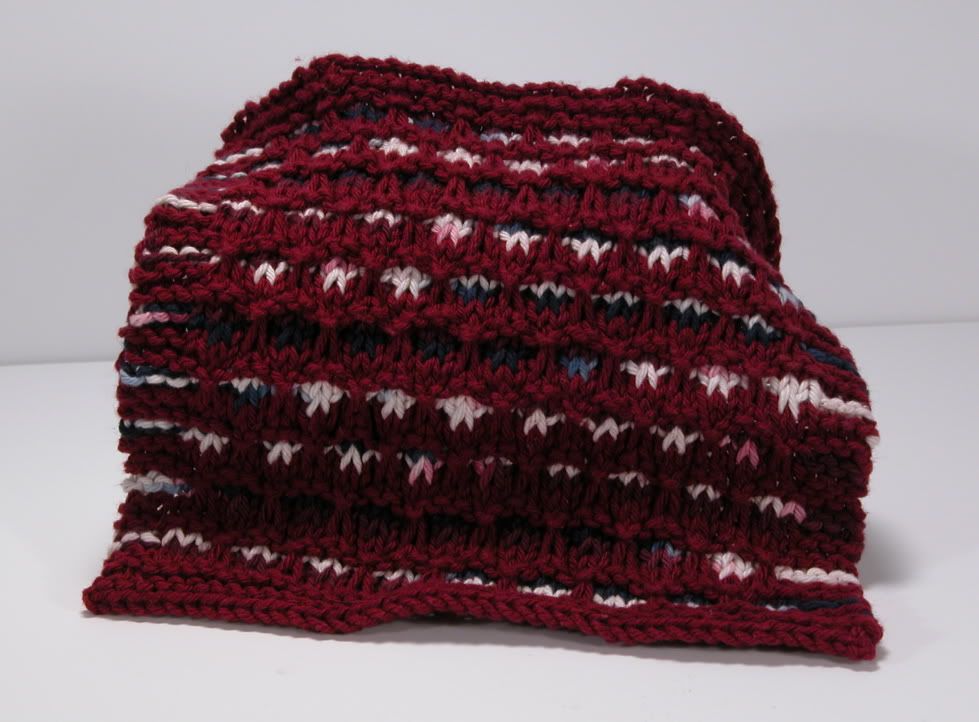 I'm gathering a nice collection of washcloths, which is cool. Happily, Kris likes them and uses them in the shower. So, I'll keep making them. =)
Also, I've gotten two more sets of stitch markers from the swap. The orange ones came all the way from Egeria in Ireland. There was a bar of Cadbury's Dairy Milk chocolate with them, but, um, I must have misplaced it. =) The fishy ones are from Batty. They came with a note that said "So Long, and Thanks for All the Fish," which completely cracked me up. Thank you both – I love them!
Other than that, I'm making some progress on the Christmas gifts, and I'm being good about not "cheating" and casting on anything for myself.
ETA – For those of you unfamiliar with Douglas Adams and the Hitchhiker's Guide to the Galaxy books, my screen name is a reference to a character, and the 4th book is titled "So Long, and Thanks for All the Fish". Hence the markers from dear Batty.