But first, a small announcement. Since my "Jack Sparrow's Favorite Socks" pattern got found (and apparently is kinda popular. Who knew?) I've gone way over my GeoCities bandwidth limit. Luckily, I am married to a wonderful man who already had some webspace set up, and now my patterns are there, just waiting to be discovered. I've updated the links in my sidebar to go to the new space. Anyone know a good way to get the word out to the free pattern sites? I know it is linked from a couple of them, and I don't want to prevent anyone from making fun pirate-y socks. =)
And now, the part you have all been waiting for – the great Macro Reveal.
Picture #1 was…
our dvd boxes, which zknitter and wily jeneric both correctly identified as being from Ikea, as is the shelf they sit on. =) We're kinda movie geeks. Not movie snobs, by any means – we have lots of animation (like Disney and WB, not so much anime), and silly comedies.
Picture #2 was…

A ceramic mask, which a lot of people identified. I was a theatre major in college and collected quite a few of these. I used to have them all on display, but they haven't made it back up in this house yet, except for a couple.
Picture #3 was…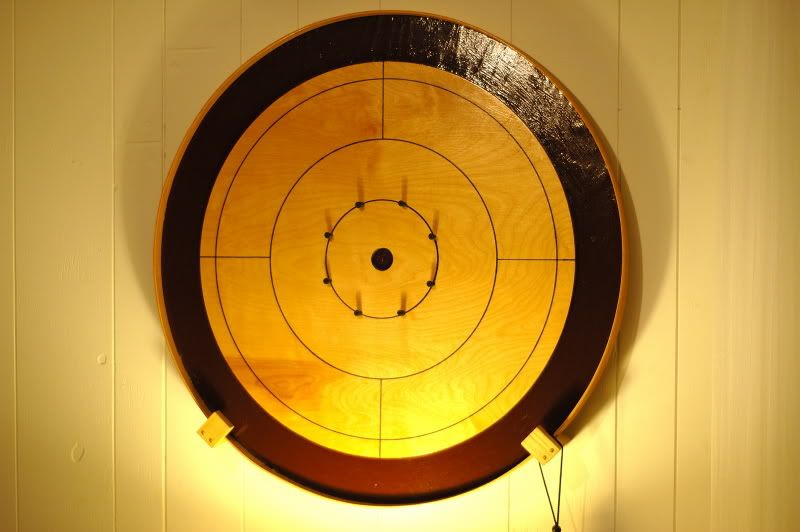 Yes, the crokinole board. This game is present at every EdFest, so it has some good memories attached to it. Plus, this one was an anniversary gift I gave to Kris.
Picture #4 was…

A Steeler flag (or as Kirsten said, a "Stiller" flag). I haven't lived there since I graduated from college, but Pittsburgh will always be home.
Picture #5 was…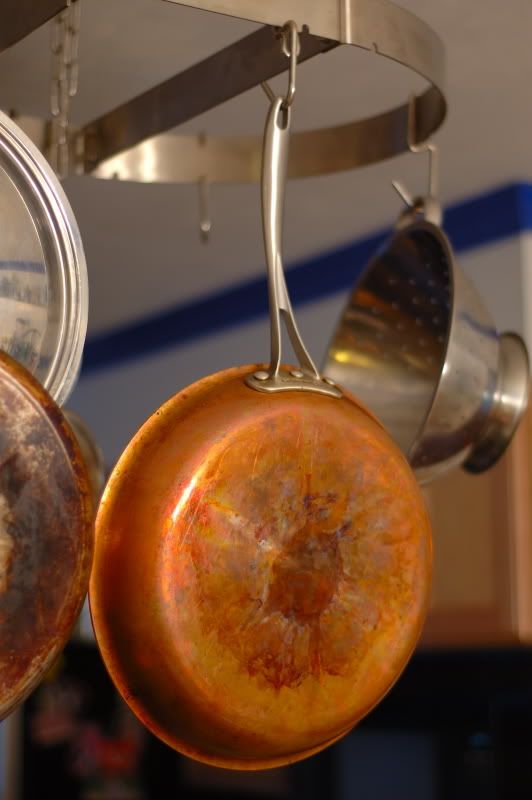 Apparently the stumper of the bunch! Only ONE person got it. This is my copper-bottom Calphalon skillet that Kris gave me for my birthday. Yes, he is allowed to give me cooking stuff as gifts, because I love to cook. It's not a chore – it's a hobby. (And yes, I know it is in desparate need of polishing)
And Picture #6 was…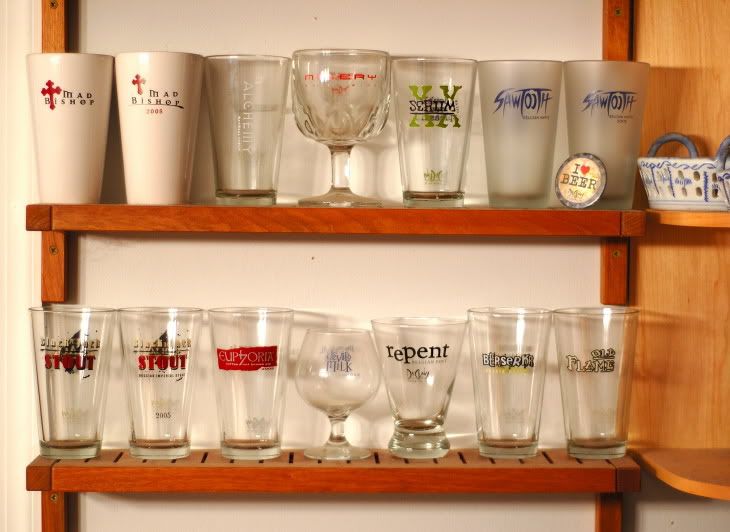 Part of our collection of glasses from DuClaw(there is one more shelf above those)! We like beer (you may have picked up on that, already), and DuClaw is a local brewpub. They have 5 regular beers (always available) and every month a different "seasonal" beer comes out. If you are on the mailing list, you get a coupon to print out and bring to the release night to get a freebie. It's either a glass or a t-shirt, so we have amassed a nice collection of both. =)
So, without further ado, the winner, the first with 5 correct, is zknitter! I have your address from before, so I'll get something in the mail to you. And just because I am a sucker, I am going to send something to all 5 people who got 5 correct – Kirsten (yeah… I have your address), wily jeneric, merry, and stiticher mom. If you could email me your addresses, I will get something out to you within the next week or so.
And wily – I subscribed to World for YEARS! I had forgotten about the "What in the World?" back covers until you mentioned them, though. That magazine was actually how I learned the sign language alphabet. They had a fold-out thing in one issue that I saved for a very, very long time so that I didn't forget it.
Thanks to all of you for playing. This was fun – I'll have to do another contest at some point. =)