Why "Hot Stuff"? Because I finished Sizzle!

Here it is, still blocking, but I'm planning to wear it tomorrow and will hold Kris down if necessary to get a picture of it actually on me. I love the way it fits, and if you are at all considering this pattern, I have one thing to say: DO IT! It rocks.
I'm quite proud of myself on this one, actually. Guess what I did on the shoulders? I GRAFTED them. That's right – after my kitchener success on the Pomatomus socks, I decided to go for it, and it WORKED!
Also, in the last couple of days, I got 2 packages from the Stitch Marker Swap.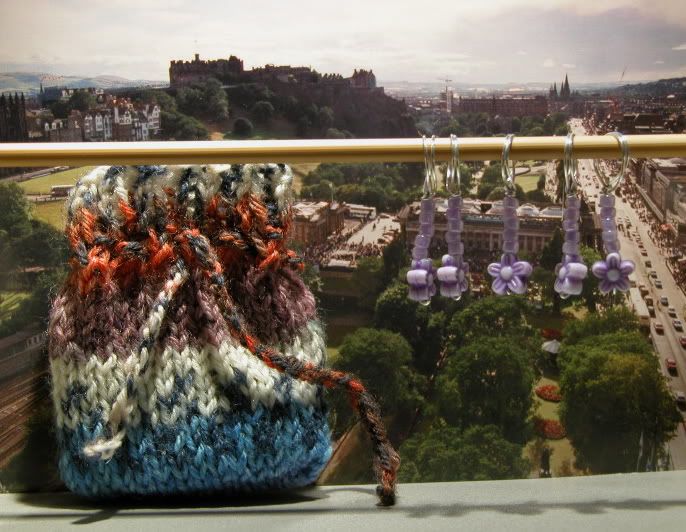 All the way from Scotland, here are my adorable markers from Shonze, with a nifty postcard and a little bag she knit for them.
And here are the lovely ones from Esther.
Thanks to both of you!! I can't express how excited I have been to get these markers in the mail. Such lovely surprises, and such beautiful and creative work, too.
As far as other knitting progress, the blog may be a little picture-light for a while. I am trying very hard to get my Christmas knitting started, but since some of the recipients read this blog, I don't really want to give anything away.