OK, since this is "objets d'art" week in Blogstalking, I guess I should find some, eh?
This is my favorite piece of art in the house.

(Not the shawl, the chair) That is what is referred to in my family as the "Ugly Face Chair". It belonged to my maternal grandparents and used to sit in their living room next to the tv. When I was a kid, it freaked the crap out of me. I used to make sure that someone (else) was sitting in it, so I didn't actually see its face. As I got older, I realized how cool it was. When my grandfather passed away in 1997, I told my mother that I really wanted the chair, because it has such clear memories of Grandma and Grandpa associated with it.
Some of the art that I want to have in the house someday are these: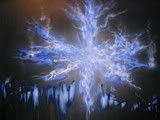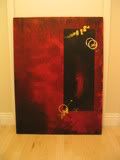 My brother, in addition to being a hair stylist, is also an artist. He has always been super-artistic, where I can't draw a decent stick figure. (Not to say I'm not creative – I mean art in the sense of drawing and painting.) Anyway, these are a few of his (He has more posted on his MySpace page). He and I are trying to figure out a way to get a canvas from Las Vegas to Maryland without incurring massive shipping costs or having it damaged in transit. Until then, I just check them out on his page.
Now I just have to find the most disturbing objet d'art in the house… We have a lot of geek-centric stuff (Kris's small collection of wizard stuff, etc.), but I'm thinking that I probably have to bite the bullet and admit that my Oz collection is probably the most disturbing.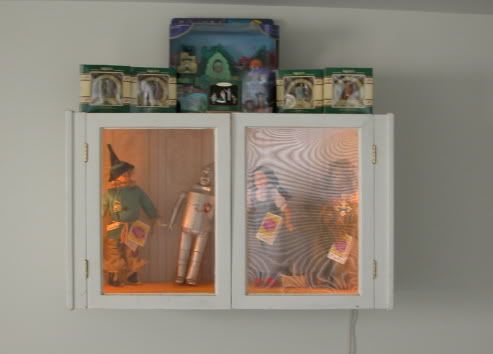 Truth be told, I don't find it disturbing, but when Yorkie was here, she made me promise that if she ended up staying with us, that I had to be sure the Tin Man wasn't looking at her. And she hadn't even seen the room yet. I guess I should take that as a hint that maybe it is a little disturbing. =)
And thank you all for your sweet comments on the stitch markers. I really do enjoy making them. And who knows? Maybe I'll take Ali's suggestion and start selling them or something. =)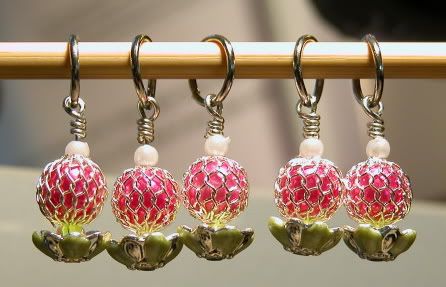 ETA: Today's mail brought me another set of swap stitchmarkers! Check out the gorgeous ones Turtlegirl sent me!! She said that the Knit Happens colors now make her think of me (since that was our original plan when she came up to visit), so she felt these were appropriate. I love them! Thank you, Cristi!!