Let's see… I know I owe Kennywood pictures, so for those of you who are interested, Kris has a flickr set here. It's not all of them just yet, but he's going to put the rest of them up soon.
Also – current knitting progress. I have put my One Skein Tank in time out until I decide I have the patience to untangle to one ball of yarn, which has gotten horribly snarled. I'm annoyed enough with it at the moment that I am considering ripping it all out and scrapping the idea. This is why it is in time out, until I can deal with it more rationally.
So, in the meantime, my June Free Day for the Yarn Focus Challenge was (shockingly) used on June 1, and I placed a couple of online orders, including one with elann for some Rowan Cotton Tape in "Fever" to make a Ribbon X-Back. As much as I hate seed stitch (and oh, do I hate tedious seed stitch), it's going pretty quickly. As of this morning, it was here: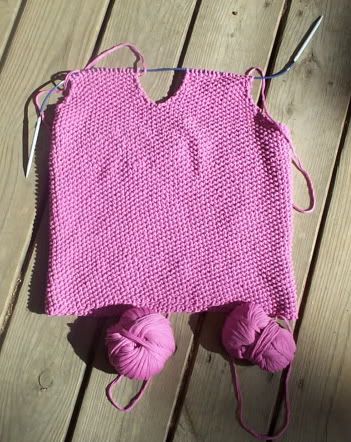 Not too bad, eh? I'm hoping to finish it up tonight or tomorrow. If I do finish it, I'll probably wind some sock yarn to take with me to World-Wide Knit In Public Day in Annapolis. Maybe I'll even start on my Socks That Rock, finally!
Other than that, I ordered a bunch of KnitPicks' discontinued sock yarns, which will keep Kris and I in socks for a while, some Wool of the Andes for a sweater for my Dad for Christmas, the Palette sampler to make the Palette Fair Isle Cardigan (gulp!), and some more WotA to make We Call Them Pirates hats for Kris and my brother. Finally, I pulled out the cone of Valley Yarns cotton I ordered ages ago from WEBS to make Hush Hush, figuring on swatching it and getting it started. It was then that I realized that I had ordered the 10/2 cotton, and the pattern calls for 3/2 cotton. There is a significant size difference there. So, I had to order a cone of the 3/2 cotton, which arrived yesterday. Once the Ribbon X-Back is done, I'll get started on Hush-Hush, but it's not really travel knitting, so I won't worry about it for tomorrow.
Last, but certainly not least, I got a package yesterday from my Knittyboard Cheap Ass Secret Pal 2 Pal, Cheapy Cheep. My goodies are pictured here (along with the sheep candleholders that Kirsten gave me when we were in Pittsburgh):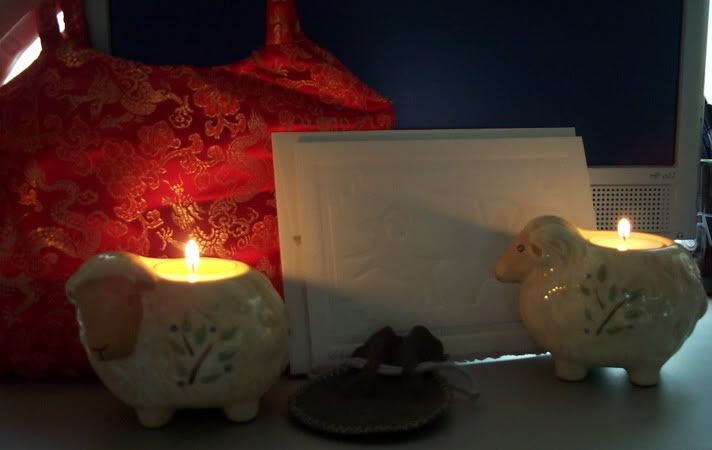 Apparently, Cheapy Cheep was helping out at a garage sale this weekend, and was allowed to pick some goodies for herself (or in this case, me) as a thank-you. The red bag is this awesome little clutch that will be perfect to take along a sock WIP. The card is a really pretty embossed petroglyph design with a lovely note inside from Cheapy, one of the candles in the sheep is a yummy vanilla tealight, and the little bag in the front is just right for carrying stitch markers or other little necessities. (And, like I said, the candleholders from Kir, which Kris insists on calling my "friendsheep". Sigh.)
Oh, and my sidebars may be a little wonky today. I am trying to switch to a 3-column layout, but we are having technical difficulties. Everything is exactly the way I want it, except that my two sidebars refuse to play nice and line up at the top. We're working on it. In the meantime, if you can figure out how to fix it, I'll give you a prize.