For my first experience at the famous MDS&W, I think I managed to behave myself pretty well. =) We got there a little bit too late to snag any of the Koigu Mill Ends or the Socks That Rock, which was a bummer, but there was certainly plenty of other great stuff to keep us occupied.
My first purchase was at The Fold. I picked up some Blue Moon Fiber Arts Merino/Tencel roving in "Dutch Canyon", which is just gorgeous. This picture doesn't really show the shine on this stuff (it's stupid and rainy here today), but this one shows it pretty well.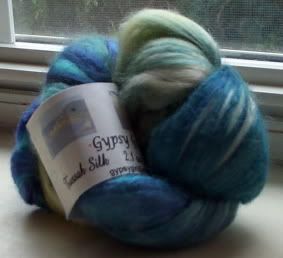 I also picked up some Gypsy Girl Tussah Silk roving, which I bought for 2 reasons – I wanted to play with silk (duh!) and I just loved the color: King Neptune. (Again, not the best picture in the world. I'll have to take more when I actually start working with it.)
For most of the rest of the day, we just wandered around petting things and drooling. We met up with the too-adorable-for-words alerievay for lunch, and had a great time gabbing with her while munching on some very yummy food. Valerie and I had gyros, Jen had a fabulous looking lamb stew in a bread bowl, and hubby had lamb barbecue and a lamb kebab. And although we skipped the deep-fried Twinkies (despite being strangely tempted), hubby and I did each (*blush*) have one of the amazing HUGE chocolate eclairs from the same stand.
Toward the end of the day, Jen found a really pretty drop spindle, since she had already gotten some amazing bright pink and blue roving (also from The Fold) and did not in fact own a spindle to actually spin it. I found the Spinning Studio booth, who had some silk hankies. Since I've been wanting to try spinning them, I had to pick some up. As you can see, I started playing with it a little last night on my Babe spindle. The only thing that I now regret is not picking up another spindle. The Babe is working fine, but the shaft is a little rough and wants to catch on the silk, which is a little annoying. Clearly, I am going to be on the lookout for a new spindle. =)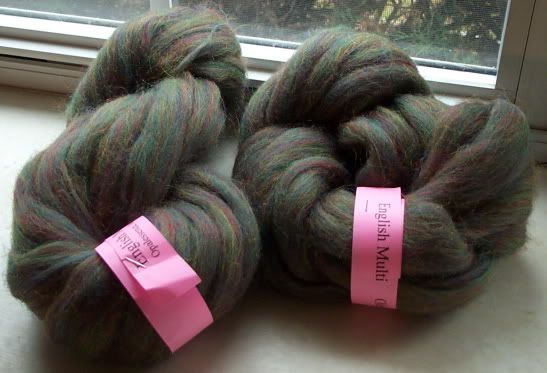 My final purchase was some lovely roving from the Opalessence booth. It's green from a distance, but when you get closer, it actually has a lot of other colors running through it. I can't wait to see how this spins up.
The only bad thing about the day was that I got a little sunburned on my back. Nothing horrible, just enough to be a little itchy today. I really had a lot of fun, and I think Kris even enjoyed himself. I know he certainly got some great pictures. I've got a slideshow of them over on Photobucket, or the full album is here.
Oh, and I almost forgot – Saturday was the official debut of my Prosperous Plum Tank! And the matching bolero! So, a modeled shot of the tank here. It's not perfect, but I'll see about getting a better one later, along with a decent one of the bolero.