First of all, an apology to Joanna – I promised her pics of the finished (Yay!) Prosperous Plum tank yesterday. Unfortunately, I was taking care of a sick hubby all day and didn't have a chance to take any.
He's fine now – Kris and Jen and I went sailing with our friends Mary and Dave (and their oh-too-cute Beagle, Pooky) on Saturday, and hubby was in charge of the grill. Unfortunately, he was handling raw meat and didn't wash his hands, which he then used to eat. So… food poisoning! Thankfully minor, but he felt like crap until last night. On the upside, he managed not to get motion sick, thanks to the ginger root pills he took on the advice of the Mythbusters. Seriously – he was once sick for 3 days after riding the Spider at an amusement park, and he was completely fine on the boat. Amazing stuff. I think he's going to see if it helps when we go to Kennywood over Memorial Day weekend with some friends. (And yes, I know he could take Dramamine, but it really makes him spacey, and he hates it.)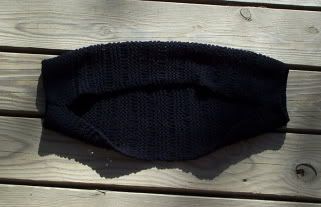 OK, OK, I know why you are here – pictures! First of all, here is the Tammy Shrug in Cotton Tape. I still need to do some sort of edging to stabilize it a bit, but I've worn it like this. I really enjoyed working with the yarn, and have been trying reeeeally hard not to order any from elann, since they have it for cheap, and it is discontinued. I don't have any specific patterns in mind for it, so I don't need it. If I come up with something, I might break down and order it on my next YFC free day. (I am bound and determined to behave until then. I will NOT be forced to admit that yarn is stonger than me.) If anyone has any pattern rec's, feel free to pass them along, of course. =)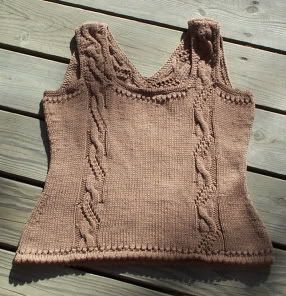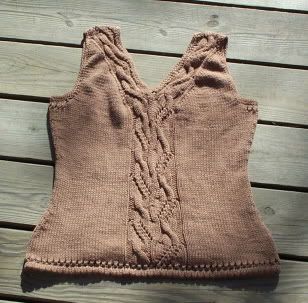 Next, the moment you have all been waiting for (Just let me keep deluding myself, ok?) – the completed Prosperous Plum Tank! Again, let me rave for a moment about this pattern – well-written and lots of fun to knit. Very flattering fit (provided I remember not to wear some obnoxiously colored bra under it. Lace – duh) I promise – modeled shots will follow at some point when I am not here by myself. Or possibly this weekend at MDS&W, where I am planning to wear it.
On that note, I wasn't sure if the weather was going to allow me to wear a tank top, and I really didn't want to cover it with a jacket or (my usual fallback) a denim shirt. So, I looked at the Cotton Fleece I had left (bought 6, used less than 3 on the tank), and I thought… I remembered the edging on the Knit Picks Leaf-Edged Bolero, and I thought… and I considered the Baby Boleros I have been making, and I thought some more… the result of all that thinking? The lovely pile there on the left – my very own bolero. I used the basic proportions of the One Skein Baby Bolero, sized up to fit not-baby-sized me, and including some design elements of the tank. The cable/lace pattern runs up the edges of the fronts (A la the Leaf Edged Bolero) and then down the back (like on the tank), and the sleeves will have the same picot hem as the tank. I am trying to get this done so that I can wear both of them on Saturday. If the bolero turns out ok, I might even put the pattern up here eventually.
While I was taking pictures on the back deck this morning, I decided to share a "dumb dog" story. A couple of weeks ago, we went to let the dogs in the house, and we couldn't find Meeko (seen here looking terribly innocent). She is our escape artist, and has dug under the fence on one or two occasions. She also likes to hide under the back deck, which was where we checked first. Eventually, we did locate her under the porch, but we couldn't get her to come out. Meeko has seizures, which are mostly controlled by medication. Once or twice a year, she will still have one. What we think happened was that she went under the porch and proceeded to have a seizure, and twisted around just enough to get herself stuck. The result?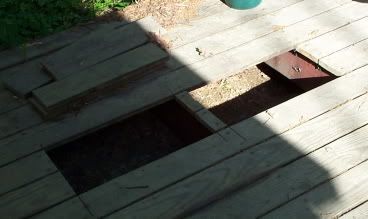 Kris had to use the circular saw (set to a blade depth of exactly the thickness of the boards- don't worry) to cut a hole in the porch and extricate her. Why two holes? We guessed wrong the first time on where she was. So… we'll be replacing those boards at some point. *sigh*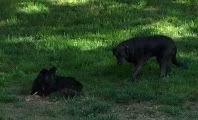 And in the spirit of equal airtime – Ginger and Lola lounging in the grass. I assume Ginger is trying to see if she can pick up any more bits of nature with her unbelievably velcro-esque fur.
Oh, and for those of you hoping for fishie pics, I keep telling Kris that there is a demand, but I can't get him to put in the webcam just yet. Maybe eventually.
ETA: Does anyone else wish Blogger had a "Preview" capability for posts? I've edited this thing about 5 times to get the pictures to lay out nicely. Grr.