Ok, clearly I either underestimate my knitting speed or overestimate the difficulty level of patterns, because I figured I would take most of the rest of the Olympics to get Kris's sweater ripped back and re-knit.
I was wrong. I did it in less than 24 hours.
It started out like this:
Not bad, but the neck is a little wonky and wide, and it just looks, well, odd. So, he asked me to fix it. I was totally ok with that, since it was the first thing I had designed, and I really wanted it to be nice-looking and, you know, wearable.
We talked about it, and we decided on making it a turtleneck. I figured I would rip back to before I started the short rows that I did across the back of the neck, and start again. I ended up holding about 18 stitches in the center front, and working short rows around the back from there, continuing the raglan decreases at the same time. Once I got it to a place I liked, I had him put it on to check the neckline, and then I started the ribbing for the turtleneck. After knitting during yesterday's Olympics, I had him check the length of the neck, and he decreed it satisfactory. So, as of about 8:30 last night, my second event was completed.
And here he is, in his new, improved sweater.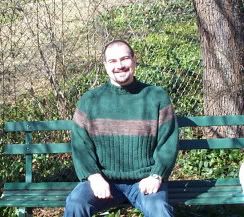 And I swear, he is the only human being I know who decides that it is a good idea to shave his head when the weather turns COLD. He's silly like that.
By the way, thank you all for your lovely compliments about my sweater – I am really thrilled with how it came out, and I really enjoyed working on it. I have some yarn left over, so I think I might make a scarf to go with it.
So, now my decision is this: do I start a third project, or do I just accept that I completed my Olympic challenge and be happy about it?