I did it! The sweater is complete! I set in one sleeve and seamed one side last night, and finished the other side this morning.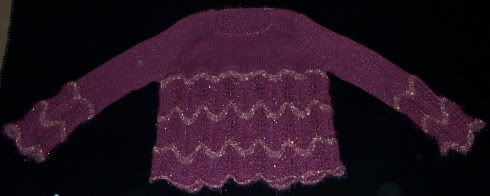 Ta da! (Modeled photo later once my photographer gets home from work)
Things I learned on this sweater:
1. I really love lace. Way more than I even thought I did.
2. I really hate weaving in ends. I think I will avoid stripes in the future.
3. Seaming is kind of fun, unless you are dealing with fluffy fuzzy sparkly yarns. Then, it's kind of annoying.
4. Stripes, while making for lots of ends to weave, give very good checkpoints for seaming.
The combination of #2 and #3 makes me think that when I do the Hodgepodge sweater, I may re-work the pattern to be done in the round to cut down on both the number of ends to weave and the seaming with fuzzy yarn.
As usual, I bought some extra of the yarn, because I am completely paranoid about running out. So, I have leftovers! I might make a scarf out of it, since I really do like the lace pattern from the sweater. And I think it would be fun to have a scarf to wear with it – just a little something extra at the neck.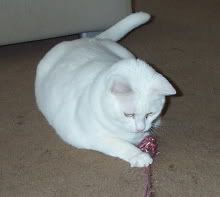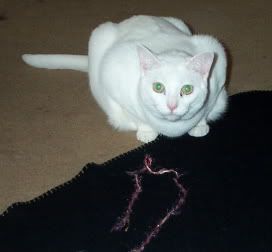 As I was taking pictures and winding up the leftovers, Rowena came over to check it out. I think she likes the sparkly yarn, don't you? She's such a silly kitty.
So – now the plan is to fix Kris's sweater and turn it into a turtleneck. I just have to figure out how to pick up stitches and work them so that the twisted ribbing shows the right way when he folds the turtleneck over.
ETA: Hubby is home from work, so here it is being modeled.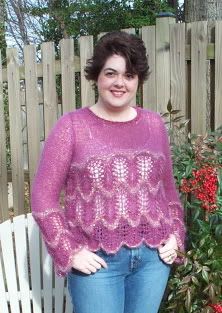 Oh, and yes I am standing in the exact same backyard that I posted pictures of last Saturday. Everything melted!