Wow – is it really Day 7, or have I miscounted? ETA: Yup – I miscounted. Day 1 was Saturday. They don't count the day of Opening Ceremonies.
Anyway, I finished knitting my second sleeve last night while watching the very cute American men moguls skiers. Seriously – if I had known skiers were that hot, I might have considered trying it.
So, here we are as of today: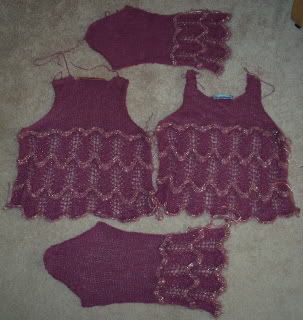 We have a front, a back, and two sleeves! All that is left is to assemble the sweater and do the neck edging (which I think is just pick up stitches and then immediately bind them off), and then a light blocking.
I am still a little nervous about the assembly using the Patons Lacette. The mohair in it tends to make it a little grabby, and since I'm not the world's fastest hand stitcher, it may take me a while to get this thing together. Plus, this will be the first time I have done set-in sleeves. Keep your fingers crossed for me.
If all goes really well today and tomorrow, I might even be able to wear this to see Bebe Neuwirth tomorrow night, which I had said in my original post about deciding to make this sweater, before I realized that I was off on the dates involved! Too weird.
Oh – and check out the Olympics countdown timer I snagged from the Yarn Harlot. (Over there – in the sidebar) Isn't it fun?