I opened my mailbox today to find a present for me from my lovely Knittyboard SP! Look at the goodies she sent me:


That is a ball of KnitPicks Palette in "Petal" – a gorgeous shade of pink, a very sweet note, a yummy-looking bar of dark chocolate (which I will be hiding from hubby), a little sheepy eraser, and 100g of spectacularly lovely roving in pinks and blues and purples. I absolutely need to practice with my spindle so that I can spin this and make something awesome from it.
The sheepy eraser will be keeping me company at my computer, and I think I have decided that the Palette will be stepping in to replace the ball of "Bark" I was going to use for the Lace and Fair Isle Pullover from the Vogue Holiday Issue. I got out the Lemon, Apricot, and Twig that I bought for it, and when I took the Bark out and put the Petal in, it went from so-so to really pretty.
Old combo – on the left, new combo on the right: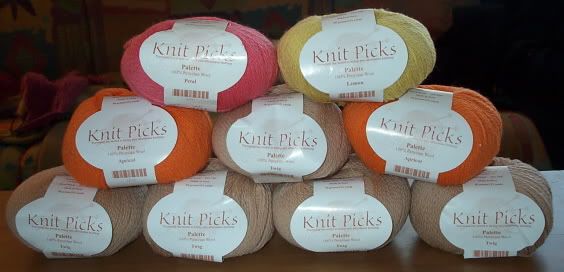 Suddenly, I really want to work on this sweater! Isn't it funny how just one ball of yarn can do that to a project?
Thank you so much, SP – I love my goodies! I hope you are having fun on your trip!
There was also a package today from Jimmy Beans Wool. This was the first time I had ordered from them, and I was impressed with their service. I got an email within a very short period of time letting me know that something I had ordered was out of stock and asking if I wanted to sub colors or wait for it to come in. (I opted to wait) Today, I received the package with the in-stock items (which are for my SP and will therefore not be appearing here) and they put a couple of peppermints in with it – how cute!
Oh! With the Olympics updates, I totally forgot to post pictures of the yarn I picked up when Jen and I went to All About Yarn on Monday.
I picked up two skeins of Elsebeth Lavold Silky Wool in "Woad" (which totally appeals to the King Arthur fan in me), with plans to make myself a second Branching Out. It was such a nice denimy blue that I thought it would go really well with a lot of things.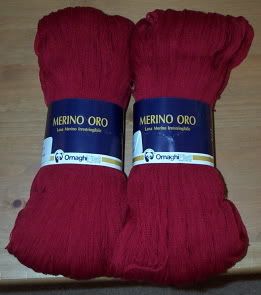 I also found this gorgeous lace yarn – Ornaghi Filati Merino Oro in color 1208 – a wonderful deep red. No idea what I am going to make out of this, but it is going to be something challenging, just to be worthy of this amazing cobweb-weight lace yarn. (I'm thinking something from my copy of Folk Shawls) If anyone has used this yarn and has any suggestions/wisdom/warnings, I'm listening.
And finally, I could not leave without this amazing hank of Cherry Tree Hill Cascade Lace – 1000 yards of 100% silk in the "Gypsy Rose" colorway. I kept looking at it, and picking it up, and putting it back down, but I finally decided that I could not walk away without it. It needs to be something awesome, but I'm not sure what just yet. For now, I am content to just admire it.
I should probably go fold some laundry so I can go back to my Olympics project guilt-free. =)