So, the snow kept me home today, which means I had lots of time to work on my Knitting Olympics sweater, right?
Um…yeah. I've done one more repeat of the lace on the front of the sweater.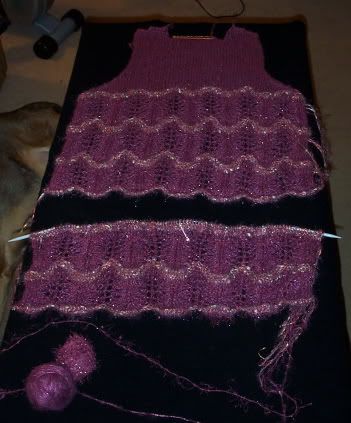 But I have an excuse for the lack of knitterly dedication – I got bitten by the baking bug today, and I made three batches of biscotti!
See:


(Dark chocolate, dried cherries, walnuts, and coconut on the left, white chocolate, dried pineapple, mango and papaya, and macadamia nuts in the middle, and semi-sweet chocolate, dried cranberries, and almonds on the right)
The plan is to get some more knitting done tonight before I go to bed (maybe the third lace repeat), and then hopefully finish the front of the sweater tomorrow and get the first sleeve started. I've still got lots of time left, but I don't want to get overconfident, because I am figuring that the seaming is going to be interesting with the Lacette.