So, I'm sitting here on Thursday when the phone rings. It's Annemarie, calling to see if I am going to StitchDC Georgetown for their Twinkle party. I hadn't actually heard about it, but I am not exactly known for, um, turning down a trip to a yarn store. We made plans to grab dinner and then head over to StitchDC. We even convinced the boys to join us. Not surprisingly, Kris brought his camera. 😀
I'll get to the pics in a minute, but first I have to share this totally random happening. We were walking from the Foggy Bottom Metro stop over to McFadden's Pub (where we were having dinner), and at one corner, this stylishly dressed woman (Black wrap, great sunglasses, awesome boots…) was on her cellphone, and said something about being lost. Annemarie, being, well, Annemarie, asked where she was trying to go. She slipped off her sunglasses and told us she was looking for the Park Hyatt. We figured out where she needed to go, and the entire time, I'm thinking, "Is that…? No… Seriously, I think it is!" When she walked away, I looked at Kris, and before I could say a word, he said, "Yes. That was who you think it is." It was Alicia Coppola, who is a total "that girl" actress – she's been in a million things. Her imdb page doesn't have any pictures, but if you watch NCIS, she was a recurring character on there, and she was a fairly memorable character on an episode of CSI (her dog killed a guy, and she stole his liver and ate it because she had porphyria.) She's a very attractive woman, made more distinctive-looking by the fact that she has freckles. And honestly, she's prettier (and a little shorter) in person. So, yeah. Random celebrity sighting!
So, we ate (McFadden's is a cute place – good bar food), and grabbed a cab over to StitchDC. We chatted with the other knitters there, fondled the new Twinkle yarns (very, very soft squishy wool, a lovely cotton/silk blend, and a nice mohair/silk blend – and some great colors.), and laughed at Kris and John being goofy.
And then we had random event #2 of the night. One of the women looks at me and says, "You're Trillian… um…72?" I said, "Trillian42, yeah." She seriously recognized me from the blog! I about shit! We started chatting, and it turned out to be Ava from "When a Door Closes…", which I have blogrolled! She was there with Olga from "Knit Creations of a Curious Mind" (which I now have blogrolled), and we had a great time hanging out with them, and of course enabling one another. I'm hoping to get a chance to meet up with them again at Maryland Sheep and Wool in May.
OK, and now on to the pictures. Kris kept himself nicely busy, as you can see. 😀 Smaller ones here, click if you want to see them bigger. And yes, there are a LOT of them.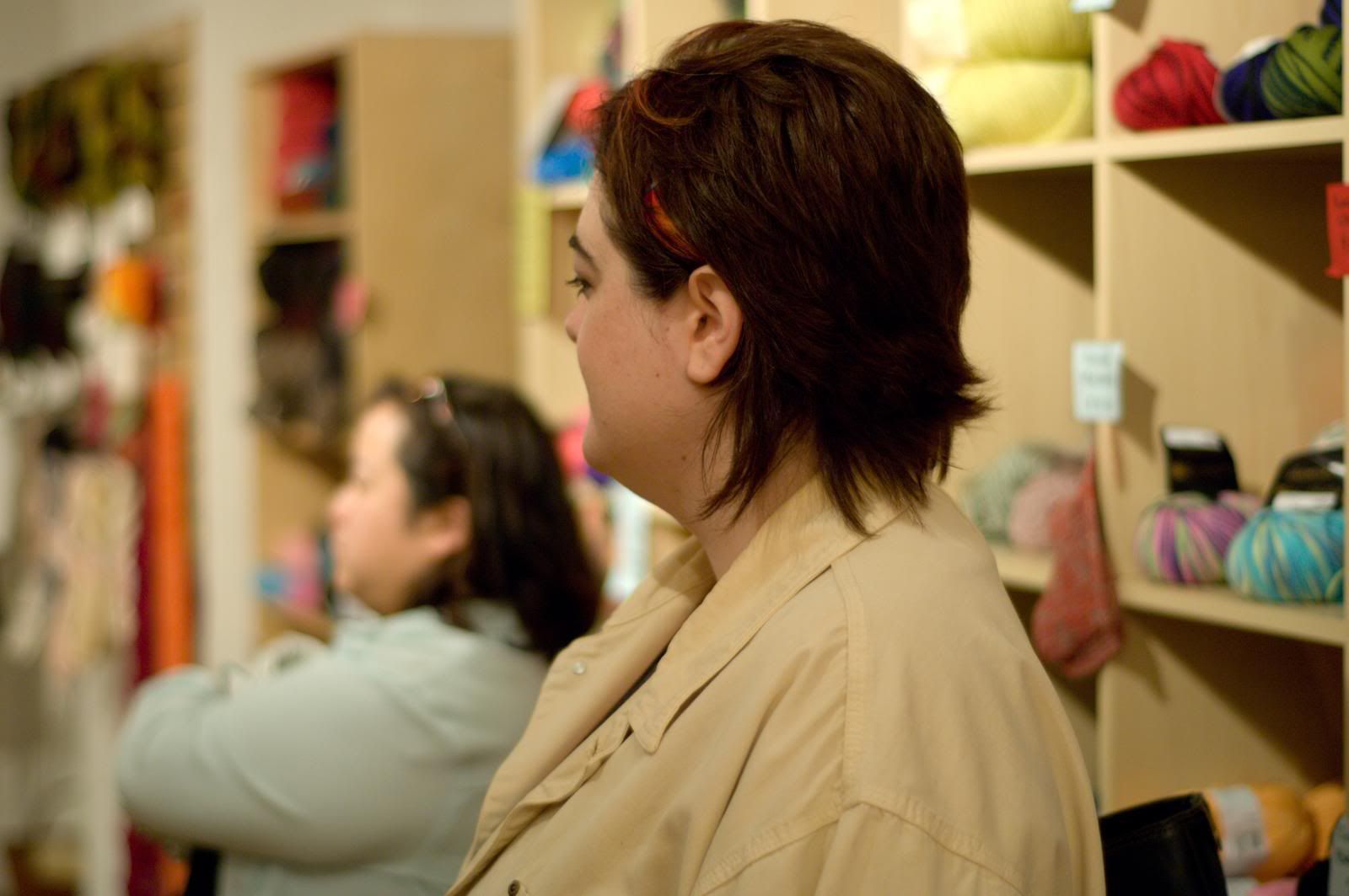 The boys were hanging out on the sidewalk, so Annemarie was taunting them with Lorna's Laces roving in Black Purl.
I love this shot of the sign against the gorgeous sky.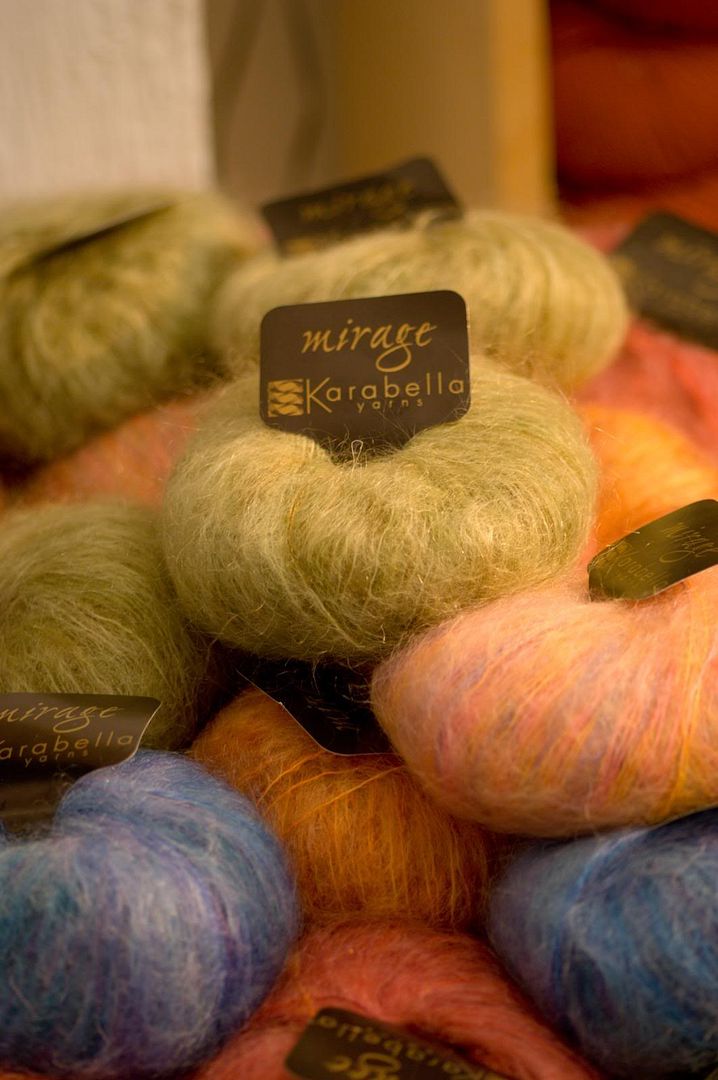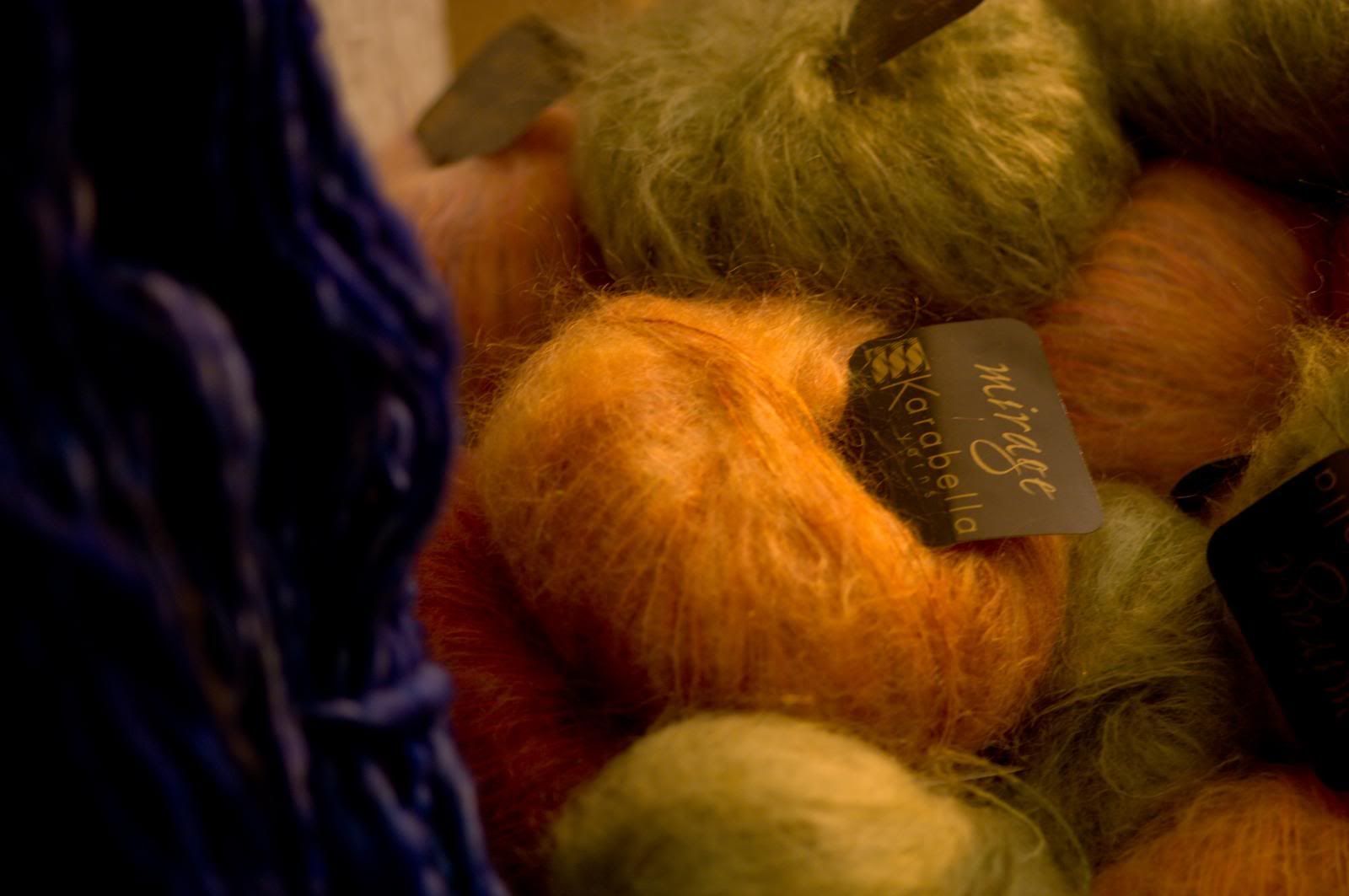 Annemarie, professional yarn snuggler, with Lorna's Laces Helen's Lace in Bittersweet.
The wall of yarn behind the cash register: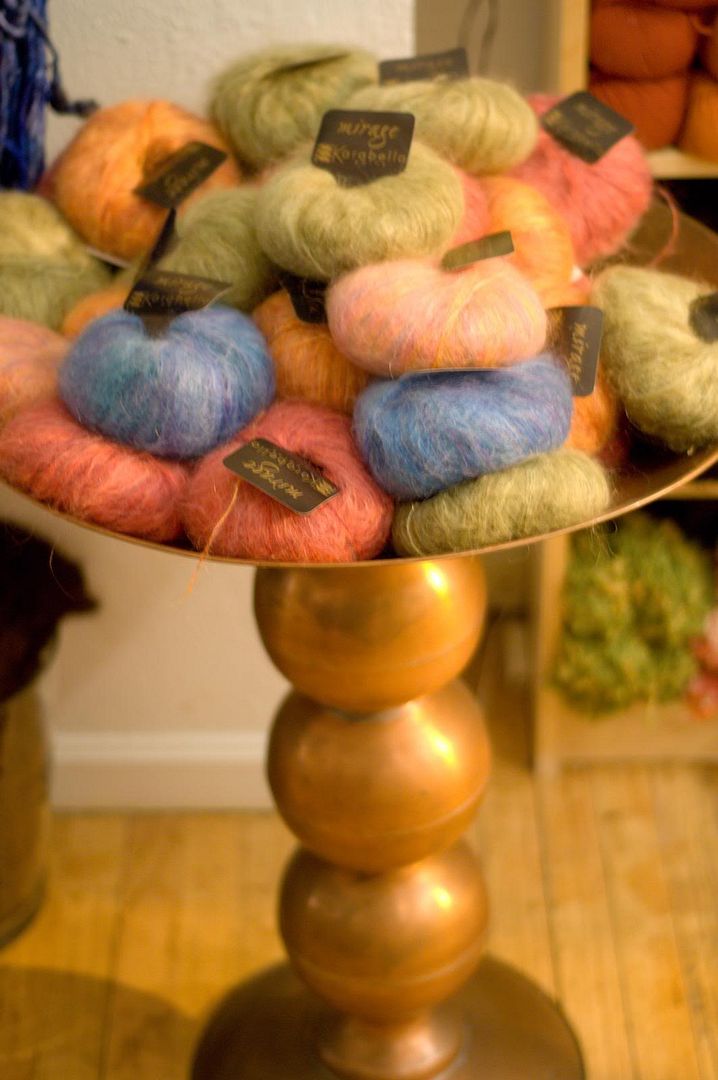 Annemarie, trying to tempt me with Alchemy Synchronicity.
And enabling me to buy the gorgeous green Twinkle wool. No, I didn't buy it. I picked a *gasp* different color.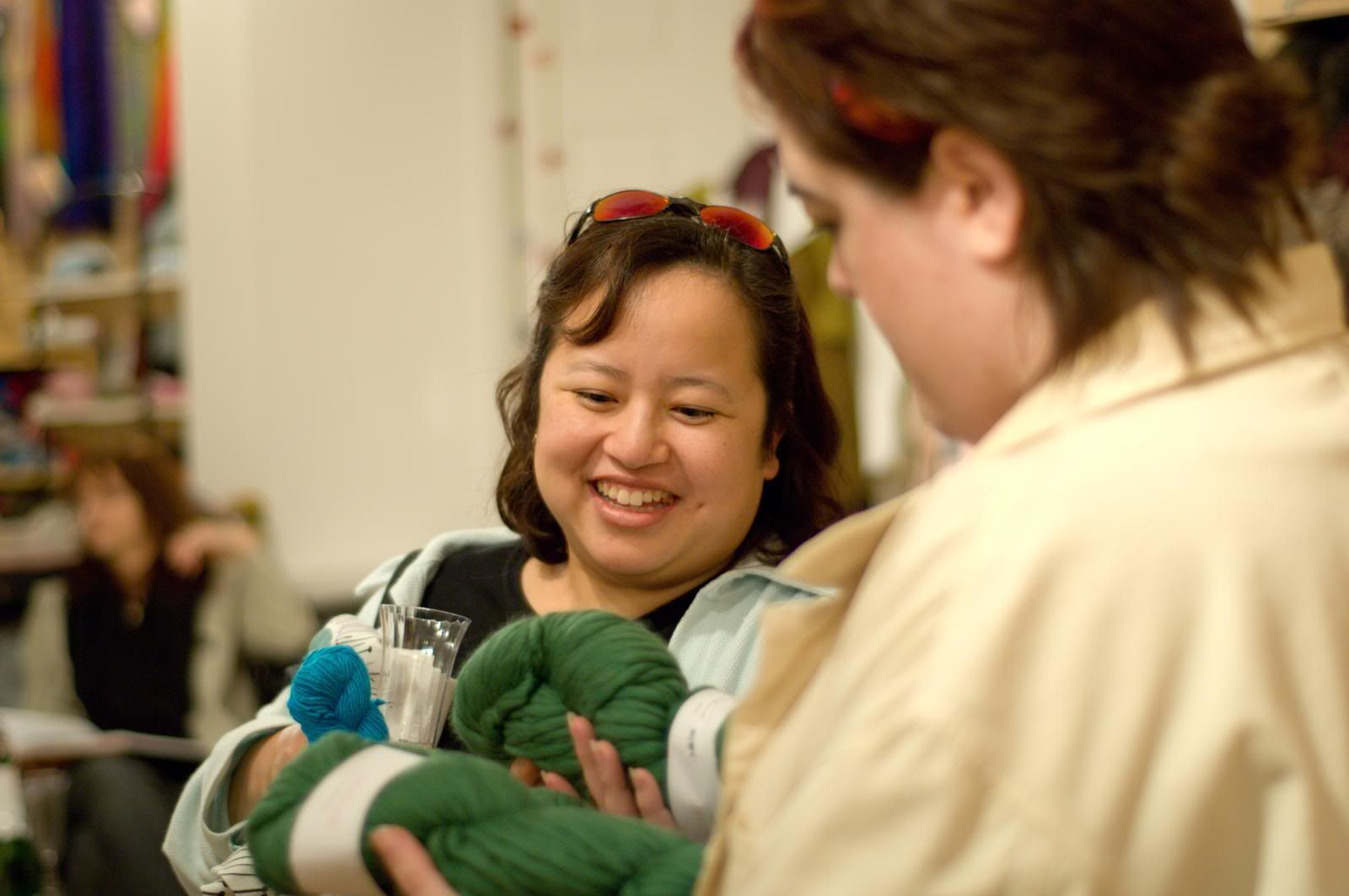 The aforementioned lovely Ava and Olga! See ladies – I told you he'd keep the lapfuls of yarn out of the picture 😉

The adorable (although blogless) Jess, who made the event a LOT of fun.