I had the loveliest Saturday this weekend. I met up with my friends Maryanne and Carrie (mother-daughter duo from my knitting group) and we went in to StitchDC. Not only did we have fun fondling all the new yarns (some of which, erm, may have come home with me and will be featured in future YPF's), but we got to meet Marie's (the owner) too-cute baby boy Cole, we got to check out the new Addi Lace needles (very nice – the tips are comparable to the KP Options in terms of pointiness, from what I could see), AND I finally found a copy of the incredibly fabulous No Sheep for You!!! Seriously – I am in love with this book. I have a hunch I will be making quite a few of the patterns in it. Gorgeous, gorgeous stuff. And really, really good information about all the different types of non-animal fibers, how they behave, and how to substitute them in a pattern that calls for a sheepy yarn.
Public service announcement: Heather over at All Things Heather is doing some fundraising for her daughter's school and their sister school in South Africa. She's also giving away her hand dyed yarns as a thank-you for those who contribute. Go, take a look, and see if you can spare a couple of bucks to help buy books for some kids!
And some knitting news: I finally got a progress shot of the Palette Cardigan!
This is where it has been for a while – I haven't actually worked on it for probably two weeks now. I'm in the midst of stripe #14 of the 18 for the body, and then I will cut the sleeve steeks, pick up and knit the sleeves, steek the front, and do the button bands and collar. I should be done right about when the weather hits 100 and a wool sweater is truly ridiculous. 😀
In other knitting news, I was reading the Purling Sprite's blog last week, and saw her announcement of her new endeavor – Loom Knitter's Circle magazine! I've seen the Knifty Knitter looms at my local AC Moore a few times, and thought about picking some up to play with them. Well, I looked at the magazine, and I thought about it, and then when Kris and I were at AC Moore on Sunday (he was picking up stuff to make a light diffuser and a reflector for his photography), I took the plunge.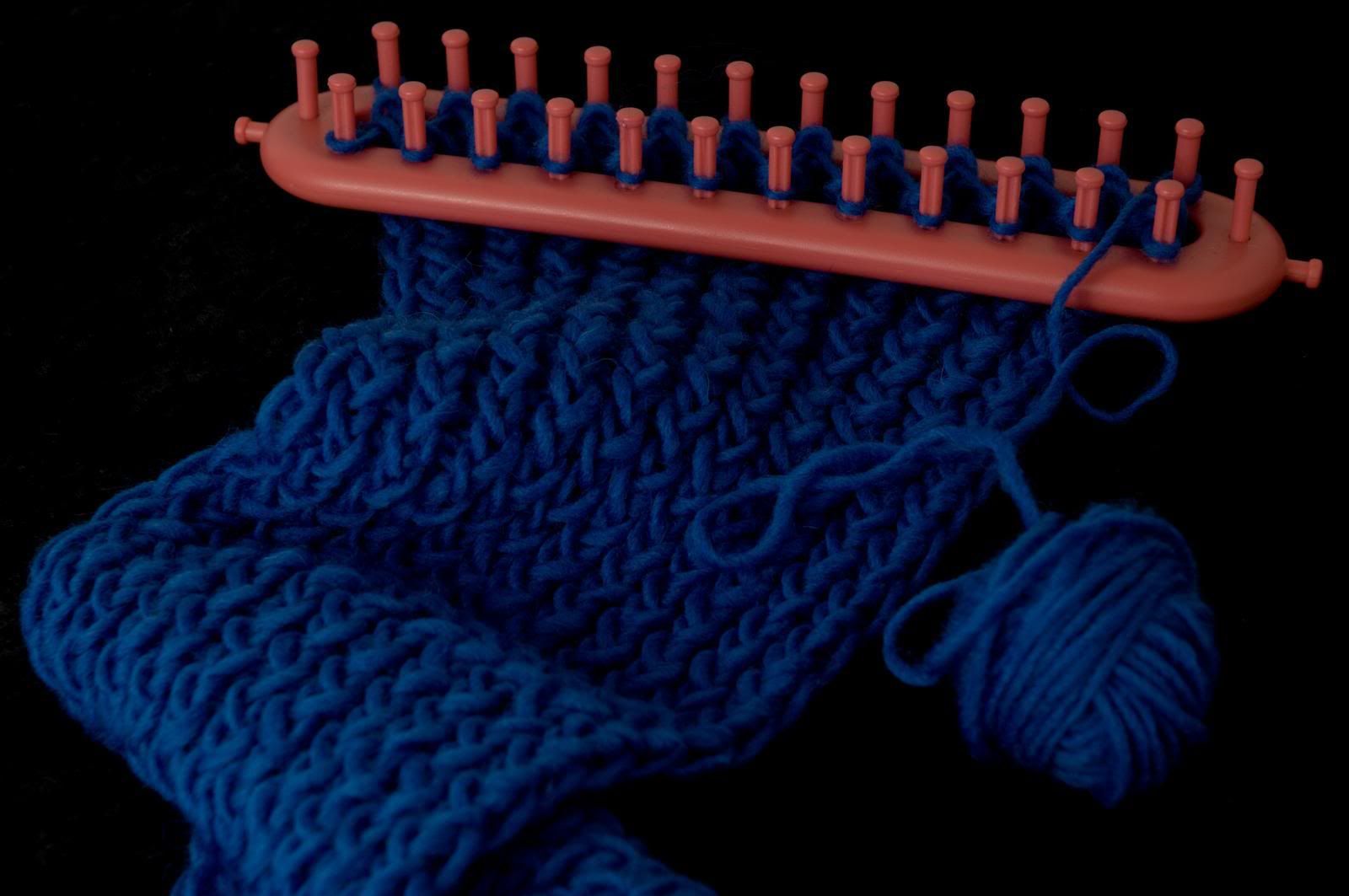 This is just the first thing I was playing with, getting an idea of how to use the loom and whatnot. I plan to keep playing with it. I don't think I'm going to be replacing my needles with looms permanently, but it's a different technique, and I'm glad to have it in my repetoire, along with crochet as an alternative for when I get bored with knitting.