So, like I said, I hate picking up stitches. OK, "hate" may be a little strong, but I really don't enjoy it. And when there is as much in a project as in a log cabin blanket, well, I was going to figure out an alternative.
To start the blanket, follow the instructions as given here, on Mason-Dixon Knitting (or in their awesome book) and knit your center patch. DO NOT bind off the center patch – leave the stitches on the cable of your circular needle, and continue on to the first strip, picking up one stitch for each garter ridge along the side as described in the instructions. (Particularly for the floofy Crayon yarn, I am slipping the first stitch of every row on the strips to make picking up easier later. Yes, there will be a little bit of picking up. It can't be fully avoided.)
Once you work the number of ridges you want for the strip, work a right-side row (this would be your bindoff on the original method), turn and pick up in each garter ridge across the end of the strip and in each stitch of the cast-on edge of the center, and continue making strips on the next two sides of the center, finishing each strip with a right-side row and leaving the live stitches on the needle.
You should have reached the top of your center patch, and have live stitches ready to go on your needle. When you have one stitch left on that last row, pick up the yarn for the next strip.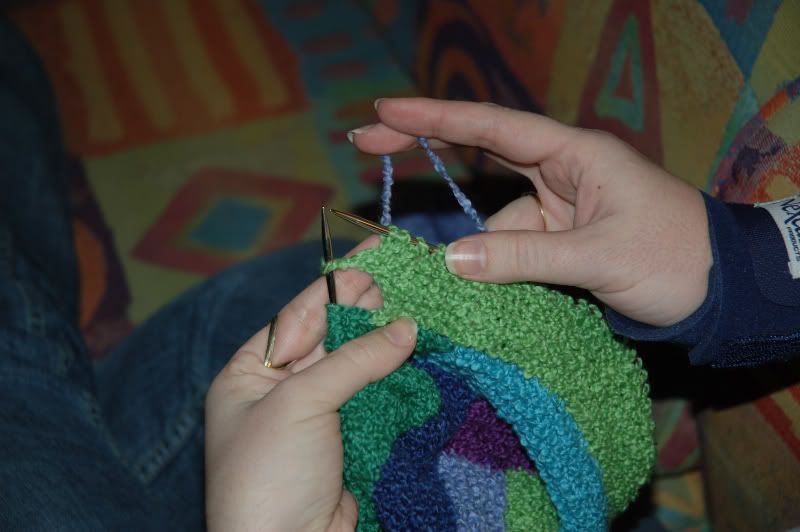 Work the last stitch of the row in the color of the next strip (light purple) – this will become the first stitch of that strip.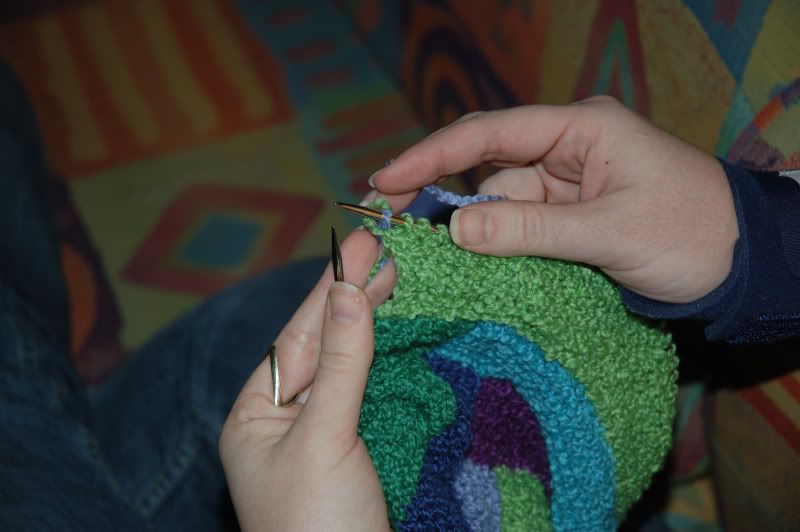 Pick up one stitch in each garter ridge (first stitch counts for that first ridge) across the end of the strip (light green), (I have 6 ridges, the MDK pattern uses 9) and then work across the live stitches on your needle (dark green).

When you reach the end of your live stitches,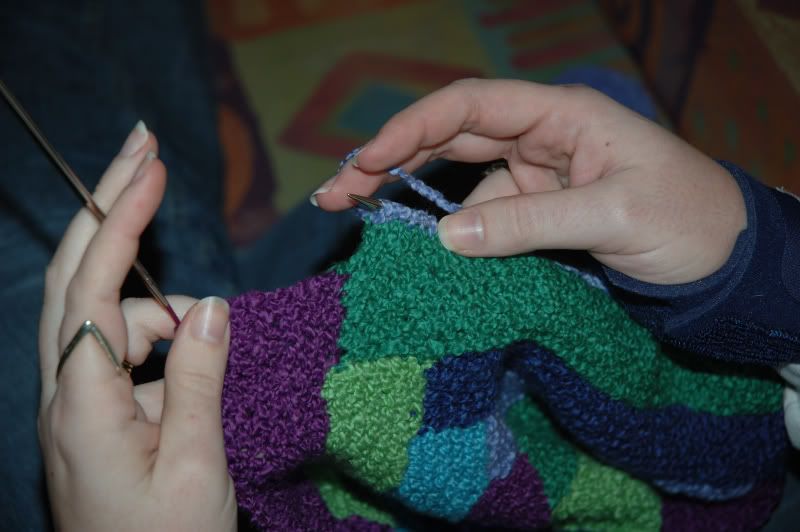 Pick up a stitch in the top of the strip immediately below (dark green)- this makes up for the final stitch of it that "turned the corner" and became part of the next strip (dark purple)

And then pick up one stitch in each garter ridge of the edge strip (dark purple).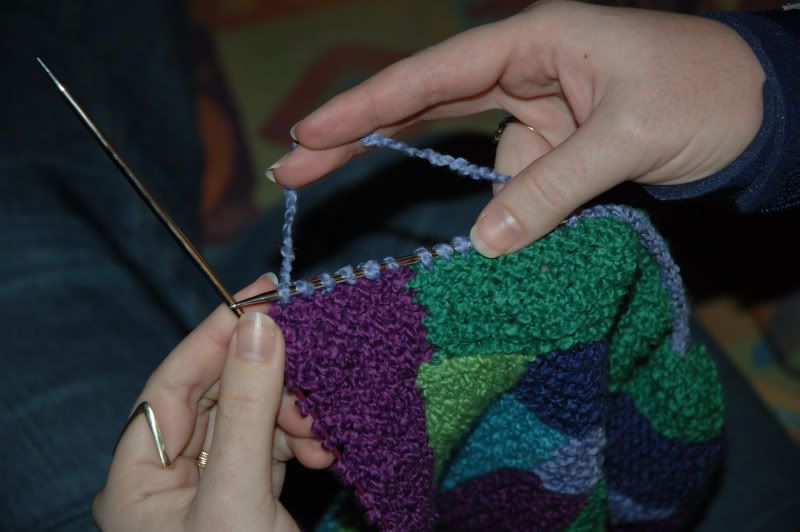 Now you should be ready to turn and work back (slipping the first stitch if you choose).
Voila! Almost pickup-less log cabinning!
Big thank-you to Kris for taking pictures for me!
Speaking of, Bezzie – re: the yarn pr0n – that's all Kris's doing with his camera and macro lens. He likes to work with a very narrow depth of field, which means that only what is in that narrow plane is in focus, and everything in front or behind is nice and fuzzy.
Oh, and Lila? Just because that hat was for Tom doesn't mean you couldn't bargain your way to one of your own at some point. 😉