So, as we were packing to leave Pittsburgh after Christmas, Kris got a call on his cellphone that our friends Ed and Karin had become parents! Their little guy was born on the 26th. We haven't been able to meet him yet, since we had to get back for Kris to be at work on the 27th, but I did start a little project to take up to him: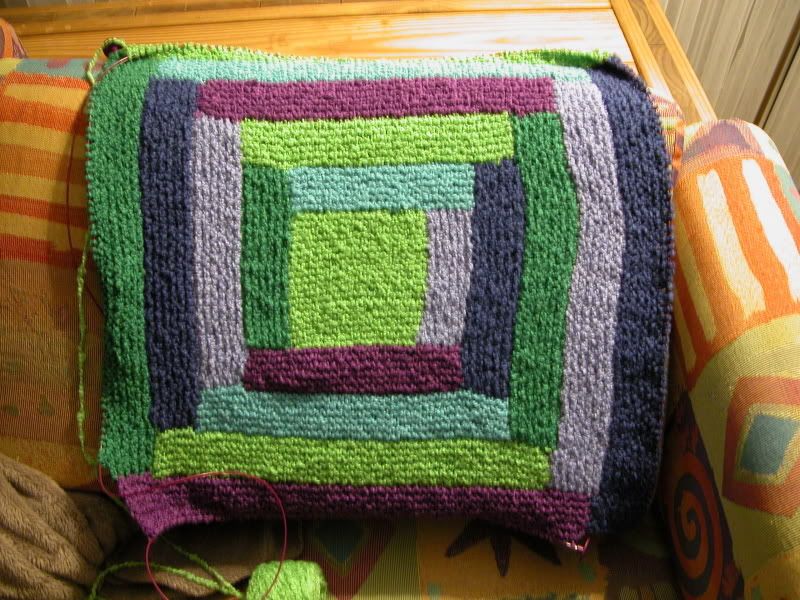 A log cabin baby blanket in Knit Picks Crayon in Lime, Periwinkle, Azure, Green, Blue, and Purple. Why that color combo? Because it is going to go with a trio of dragons! Specifically, Knitty.com's Norberta, one each in the greens, the blues, and the purples. See, Kris and Ed used to play D&D together in college, and even once we moved up here (before Ed and Karin moved to Pittsburgh), we would play. My feeling is that we need to encourage the geekitude in the next generation as soon as possible. So, the little guy is getting an emerald, a sapphire, and an amethyst dragon to snuggle with, and a matching blanket. 😀
I played a little with the basic log cabin premise from Mason-Dixon Knitting. In that book, they tell you to cast on, knit the center, bind off, and then pick up for the first band, knit it, and bind off.. and so on. Well, I hate picking up stitches with a fiery passion, and they are doubly a PITA with a floofy yarn like Crayon (which is soft and snuggly and will make a great blanket). So, I thought about it, and it ocurred to me that it was a little silly to bind off stitches just to pick them back up again. So, I tried something. When I finished a band, instead of binding off on the right side, I just knit across that row and turned my work to the right. I picked up the stitches in the end of the band I just completed, and then just knit across the live stitches on that next side, which I had held from the previous band on that side. You can sort of see what I mean here: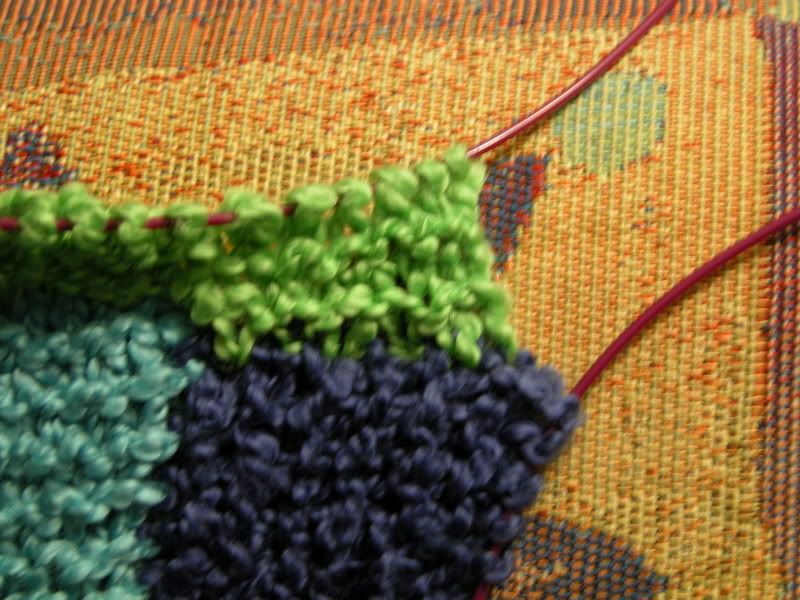 It does require a really long circular needle (possibly two, eventually), but I think it makes the log-cabinning go a bit faster. Plus, there are no lumps on the back from picking up stitches, and you don't need to even attempt to find the stitches in the bindoff to keep your count consistent!
I suddenly realize that I'm possibly not explaining this all that well. If anyone is curious and wants a better explanation, let me know, and I'll enlist the photographer (aka Kris) to help me put one together this weekend.
I finished my version of the Red Light Special hat that I mentioned in the post about Kris's. I love this pattern – I did almost the entire thing on Jan 1 and 2. (And no griping – I was pretty much on the couch all day after a very long New Year's Eve. And no, I wasn't hung over…)
Here it is blocking on my patented upside-down-mixing-bowl-balanced-on-bottle hat blocker. I should really find an easier way… I call it my "Swamp Thing" hat, because although I love the colors and am very happy with how it came out, that is the only thing I can think of when I look at it.
Oh, and you know how everyone seems to be posting their New Year's Resolutions? I'm not. Not only am I not posting them, I'm not making them. I've realized something in the last year or so – the best way to guarantee that I will do something is to tell me that I can't, and the best way to guarantee that I won't is to tell me that I have to. (That noise you hear would be my father falling out of his chair laughing. I'm pretty sure he and Mom figured that out YEARS ago) So, I'm not doing it. I'm not telling myself that I can't buy yarn until such-and-such date, and I'm not telling myself that I will lose X pounds by summer. I am considering this 100 miles by April 1st thing, though. Mostly because I have doubts that I can do it, which pushes me to want to prove myself wrong. And yes, I know that I am a sick, twisted woman who clearly needs help. 🙂 The debate is, of course, treadmill or stationary bike. I did 500 miles on the bike in 2005, but I'd like to push myself beyond that. And 100 miles by April 1 is just barely over a mile a day. I should be able to walk that. Hmm… Food for thought, anyway.
Note to anyone who reads this via Bloglines – you might want to check to see if you have the "Updated Items" option set to "Ignore", or every time I update the "Finished Objects" or "Planned Projects" posts, they are going to show up as new. And I don't want to annoy anyone.