Oh, come on. I made Brooklyntweed's "Red Light Special" hat in shades of blue and you expected something else?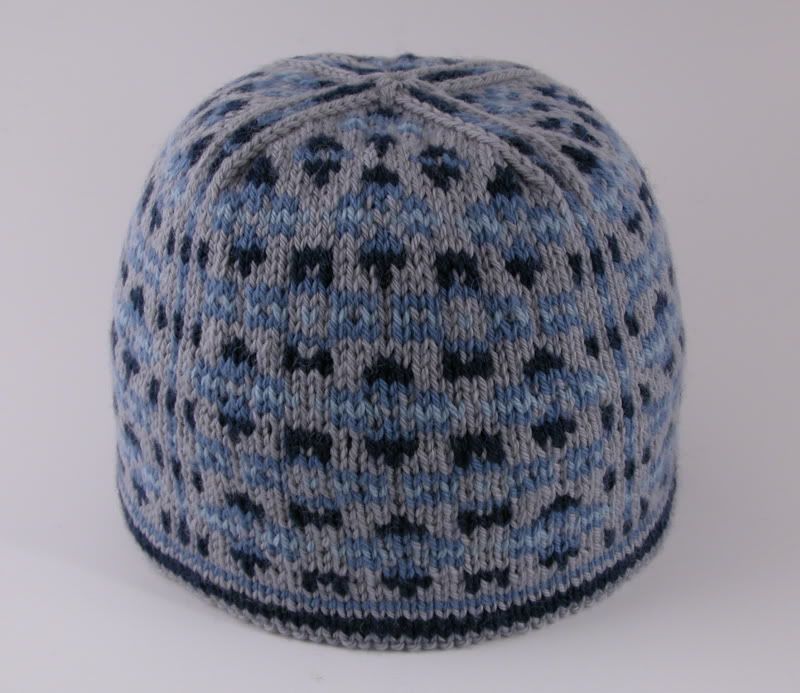 Kris chose the colors (it IS his hat, after all) – Knit Picks Telemark (which I loved using) in "Snow Leopard", "Icicle", "Colonial Blue" and "Skyline", with a lining in KP Shine Sport in "Cloud". I cast on Christmas Eve morning and finished it the evening of the 26th while watching "Talladega Nights" (dumb, but funny). It's a great pattern, and I really enjoyed knitting it. The stranding and color changes kept things just interesting enough without inducing insanity.
I actually think I am getting to like the whole Fair Isle/stranded knitting thing. My stitches are getting more even,

and my stranding even looks pretty good on the inside!


I picked up yarn to make myself the same hat in (wait for it, you'll be shocked) green

(left to right, "Burlap", "Chestnut", "Pesto", and "Northern Green"), and then I think that once I finish Kris's sweater, I'm going to finally attack the Palette Sampler Cardigan that I've had the yarn for since… um… I have no idea how long ago now. I was a little afraid to start it because of the steeks, but since the class I took at Stitches, I'm not so worried about that. And now that my stranding seems to be getting better, I'm really looking forward to it. Heaven help me!
Oh, and Tom wore his new "We Call Them Pirates" hat to work yesterday. I got a text message from him last night – half the staff wants hats now. 😀 He's got some ideas for patterns, so we're going to talk about it and work something out.