Check it out! I finished the "We Call Them Pirates" hat for Kris!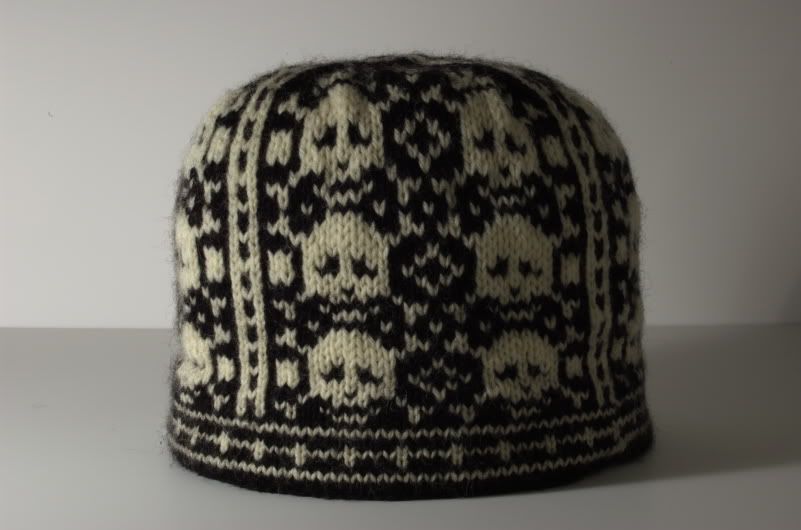 I actually finished it a couple of days ago, but had to block it and then wait for it to dry. Stupid cotton hem. =) It is KnitPicks Wool of the Andes in "Coal" and "Cloud", and KnitPicks Shine Worsted (for the hem/lining) in "Ebony". The Shine Worsted was a killer on my hands (US1 needles…shudder), but the Shine Sport doesn't come in black.
I'm really happy with how it came out, since this was my first real Fair Isle project. There were a couple of places that I pulled the floats a little tight, but most of them stretched a bit with blocking. This is a cute project, and a lot of fun to knit. Which is good, since I am making another one for my brother for Christmas. And Kris says it is nice and warm. Because, you know, Tom will really need that in Vegas. Hee.
We did something last night that was totally new to me, and way more fun than I thought it should be. John was meeting up with a couple of his old medical school friends and invited us to tag along. We went to the Montgomery County Fair to watch the demolition derby. And it was AWESOME. Kris took his camera (of course) and took a ton of pictures. He's posted a few of them here, but these are a couple of my faves.
This couple was sitting in front of us. Judging from her hair, we are guessing that they actually got married yesterday and were spending the evening at the fair. How cute is that?
This was the car that won the "small car" division. And the driver? Was a woman. 😀
We really had a blast. And we also had some awesome food. There is nothing like a county fair funnel cake. Yum.
And my dear Siress Yorkie? Every hour on the hour? Really? I have to believe you have more important things to do than see if I have updated my blog. =)