Warning – LOTS of pictures. If you're on dialup, well, I'll just apologize now. And I apologize to everyone that some of these are a little blurry. Most of them are fine, though. And if you want to see the pics bigger for a better look at a detail or something, click away!
So, my lovely UPS person brought me a box today. What was in it? My Knit Picks KIPer Bags Set (Yes, of course I ordered the whole set. Do you people not know me at all?). So, as I promised, here is my quick review of them. I will update this as necessary as I use them.
First impression? I LIKE them! A lot! They are nice and deep, and for someone who likes to stuff a bag like I do, that's a great thing. The loop handles are nice and long, and I can see being able to put that over my shoulder for a quick moment, although not for long-term carrying, at least not for the largest size.
First of all, the Chart Keeper. For a fan of the Post-It Method of chart-place-keeping, this thing ROCKS. It folds nicely and closes with a magnetic snap, keeping my Post-Its right where they belong. As you can see, the strap that closes it will also attach the two sides to make a nice easel, holding your chart so that it can be seen. There are 4 magnets in there, holding the chart firmly in place. One thing I wish it had is a clear piece (magnified or not, no preference) to place on the line you are working. That's not so much for me (since I am the Post-It queen), but I can see it getting use by other folks. And frankly, if it was there, probably by me too.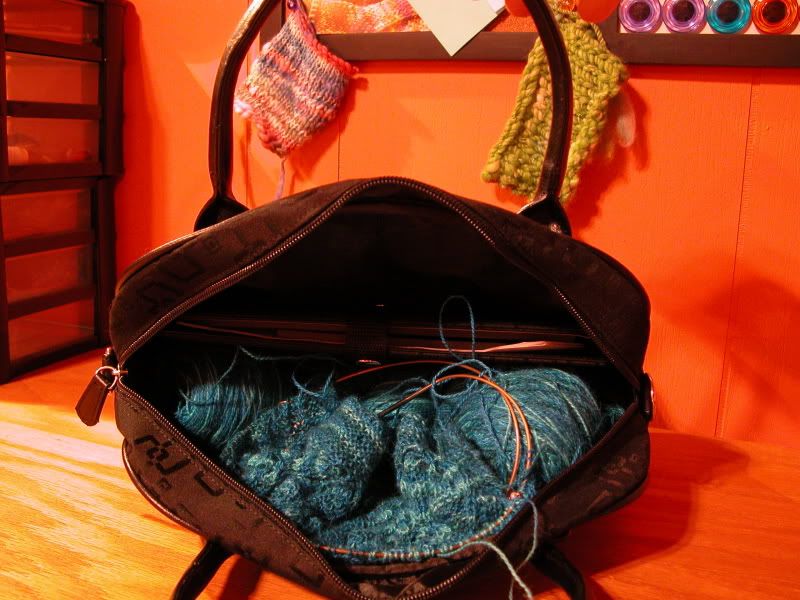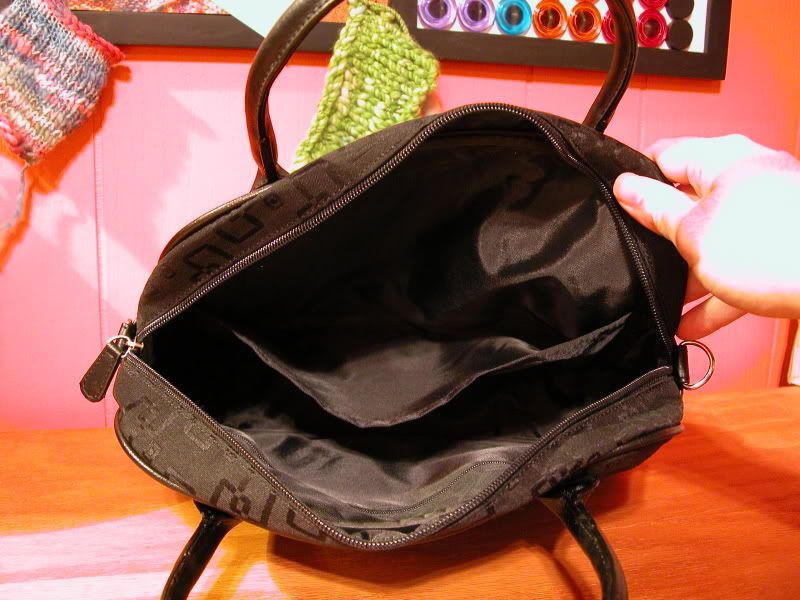 Okay – the small bag. Here you see it open and empty on the left, and open and full on the right. The small bag has a large zippered pocket along one side, about half as deep as the bag, and an open pocket about the same size on the other side. Right now it holds, with ease, my Chart Keeper holding the pattern for my WIP, the strap for the bag, 2 hanks (not yet wound) of Knit Picks Shimmer, 2 balls of the same Shimmer, and my WIP, the Candleflame Shawl, as you can see here.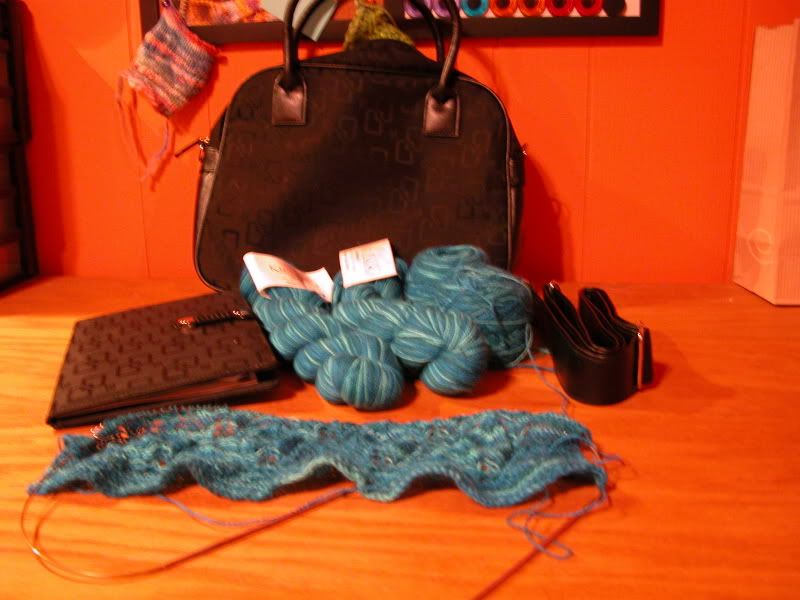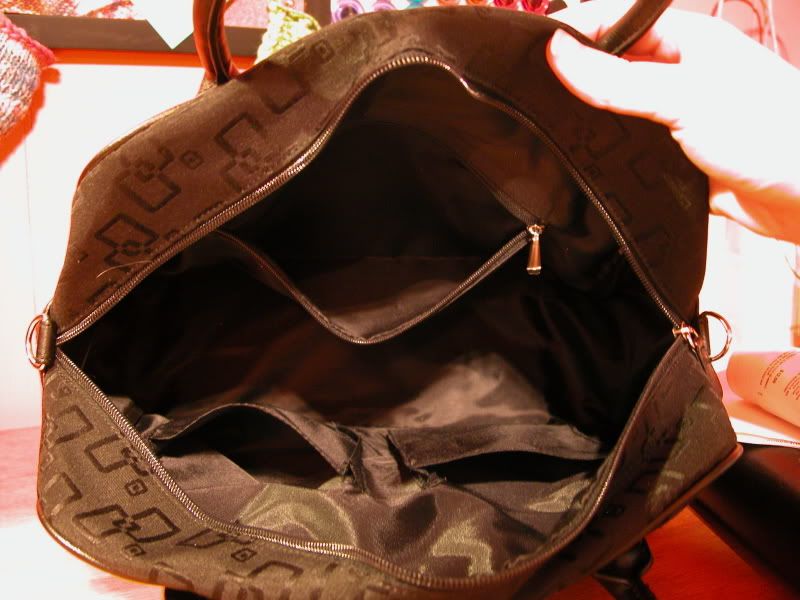 The medium bag: This has the zippered pocket (open on top in the picture to the left) on one side, and two open pockets on the other side. It is holding a KnitPicks Needle Binder containing my sock-oriented circular needles, the bag strap (Yes, each one has its own strap. A nice touch, to my mind), the
Pomatomus pattern, some hand lotion, and my Pomatomus socks in progress (yes, still). And it has a lot of extra room.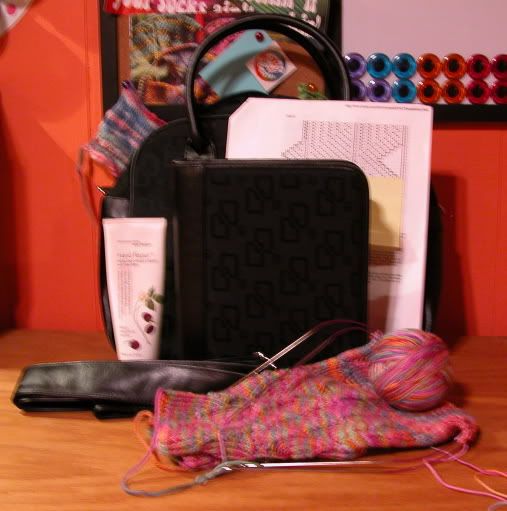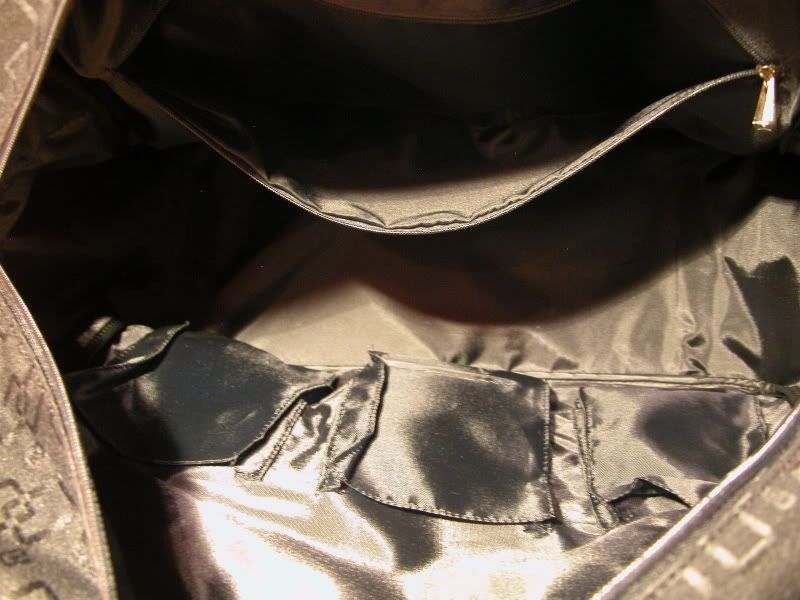 The large bag: This one is going to be my go-to bag for sure. It has the zippered pocket on one side, and three open pockets along the opposite side. It is holding my other KnitPicks Needle Case, which holds my Options set, the strap for this bag and the Purse Organizer (more on that in a minute), my knitting accessories bag (an old pink makeup case with lots of pockets – it's about half the size of the needle case – you can see it in the pic to the left, but it got buried under Sizzle in the one below), the Accessories Bag from the set (currently holding random purse-oriented stuff like eyedrops and Excedrin), my Sizzle pattern, and my WIP, Sizzle, along with 5 full skeins of extra yarn. (I think there is some hand lotion in there, too, but I missed it in the picture)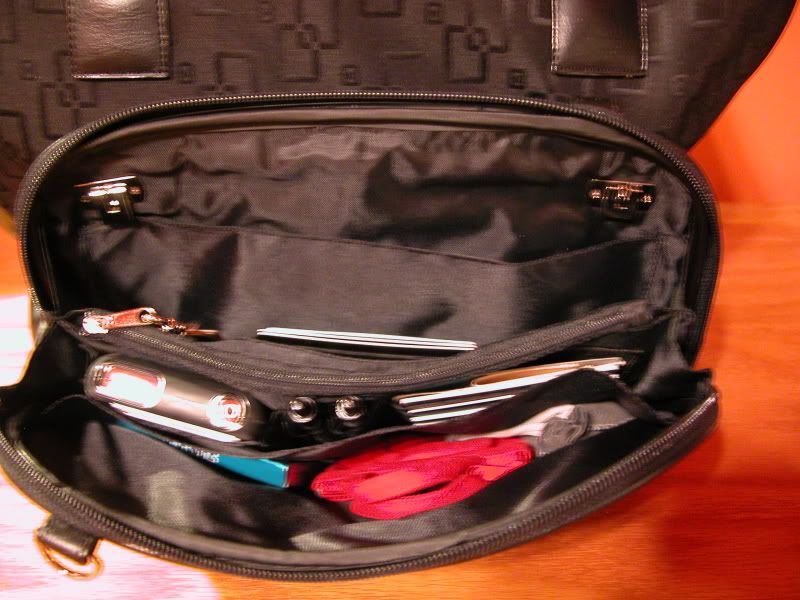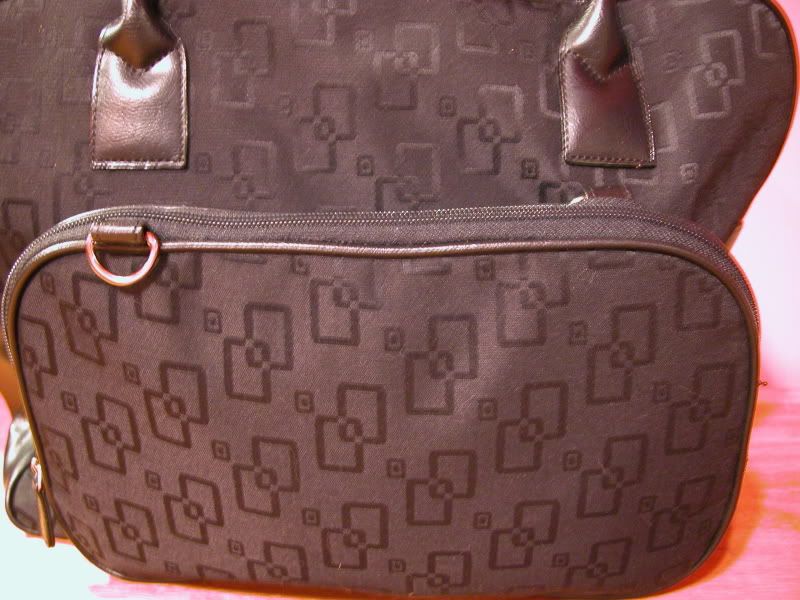 The Purse Organizer: I was a little confused by this on the Knit Picks website, because I didn't totally understand that it hooked to the outside of the bag. I couldn't figure out how helpful it would be on the inside, since it would take up space from knitting stuff. Here, it is attached to the big bag. As you can see, it is about half the height of the big bag, so it is about the same size as the small bag. There is a nice big zippered pocket in the middle, open pockets on both sides, a cell phone pocket (currently holding my iPod), two pen loops, and enough spaces for your ID and lots of ATM/credit/discount cards (10 pockets, if I remember right). It has loops on the top to attach its own strap if you were going somewhere and didn't want to take your knitting along, but just this. Why someone would do that, I can't imagine, but there are allegedly places where people frown on knitting. You know, like weddings and formal occasions and things. =)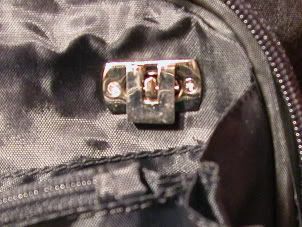 How does this organizer attach to the bags? I'm glad you asked! There are two clasps on the back of each bag that look like this. They lock down like this, and are not easy to undo. Plus, the purse has to be open to undo them, so I am not as worried about someone being able to steal the purse part easily.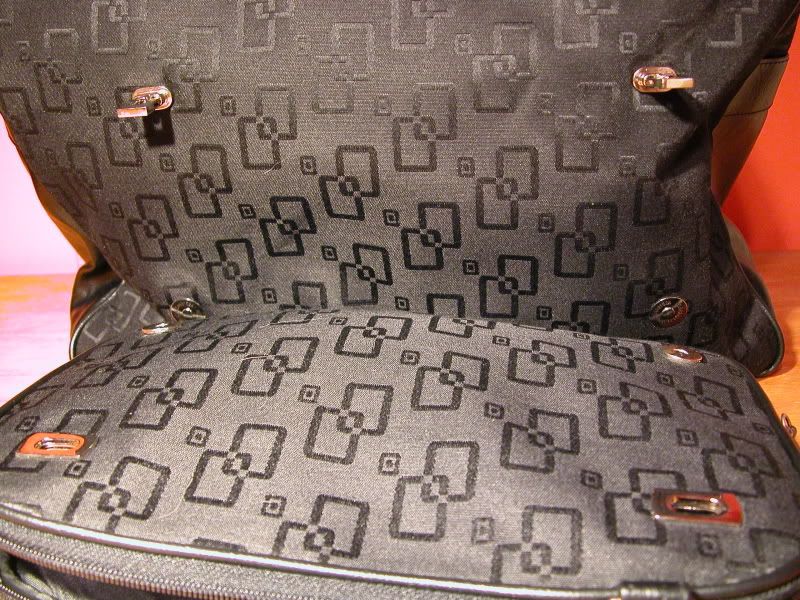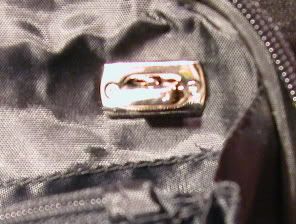 When you unlock the clasps and open them, they look like the picture on the right. The purse slides off the clasps, and then releases from the magnets on the bottom, as you can see on the right. Each of the three knitting bags has this system, so you can move the purse from bag to bag in just a few moments of effort.
So, there you have it. My 2 cents on the new bags. Honestly, the only thing I would change at this point is that I would rather the bags have a double zipper. Mostly, that is because I always go to the wrong end of a bag to open or close a zipper, so I zip them to the center. =)