So, you may notice (if you are in the habit of memorizing the status bars over there) that the progress on the Bombshell Tee has once again moved backward. Grr.
I was almost done with the ribbing, when I tried it on, and I realized that there was just no way it was working. The combination of the darts in the pattern and the short-rows I put in for the bust were working against each other. So… I ripped back to before the short-rows and started again on the darts. I think that this sweater is designed such that unless you are VERY busty, you probably don't need the extra from the short rows. Famous last words, right?
I'm still hoping to have it done by next weekend for EdFest. We'll see what happens with that.
No new pictures or yarnography at the moment. I'm waiting on an elann.com order, so I'll get some when it gets here. In the meantime, a very cool pic that hubby took of my knitting book shelf: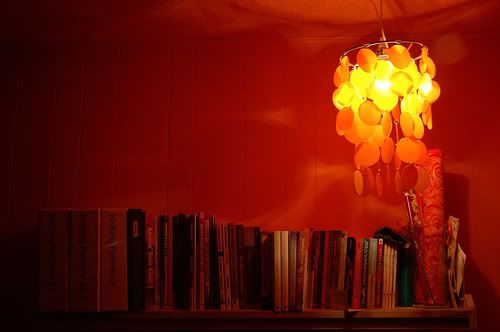 And yes, my craft room is actually orange. Which was why I had to buy that goofy light at Bed Bath & Beyond when I saw it. (Come on, it was like $2 – how could I resist?)
And just to put it out there again, because it freaks him out (in a good way) when people see his pictures and comment on them, his Flickr page is here. I think he's damn good, but I'm a little biased. =)