First of all, how much do I love the Tony Awards? I was sad that my boyfriend (Hugh Jackman, and yes, he is MINE!) wasn't there this year, having done such a great job hosting the last couple, but it was a great night, with some wonderful performances. Kris is totally enamored of the new version of Sweeney Todd, and I would love to get to NY to see it, but I'm not sure if we'll have time. At the very least, I need to get the cd for him.
In other news, remember the comment I made on Saturday about not getting much of a sunburn while we were in Annapolis? WRONG! I totally cooked my left shoulder (only the left because the right was partly shaded from the tree). So, I've been trying really hard not to scratch it. Ugh. I hate sunburn. And I hate when I'm dumb enough to forget sunscreen. It's not like it's news to me that I am pasty and burn easily. You'd figure I might have caught on in the last 32 years…
So, while Kris was outside chopping up the big branch that fell in the yard (Yay chainsaw!), I was working on the Pomatomus socks that I started at WWKIPD and detangling the mess that was my One Skein Tank Top. I finished the ribbing on the socks and one repeat of the chart as of last night. What a seriously gorgeous pattern this is. I am totally psyched about doing Hedera next, since it is also by the same designer. Might even use the other STR for that pattern. I think I have decided that I am not doing the second chart repeat on the cuff for two reasons – I don't tend to wear socks that high unless they are actually knee socks, and they are a nice length right now, and I am a little bit concerned about running short of yarn. I'm pretty sure I'd be fine, but I'd be really peeved if I got to the toe and had to rip all the way back because I ran short. I am totally loving the pattern though. (And aren't the stitch markers faboo? Roxy made those for me, because she is uber cool.)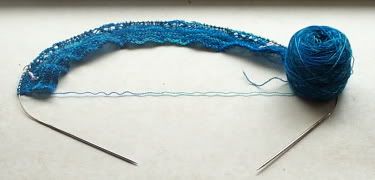 Ok, so about the One Skein Tank Top. Like I said last time, I was not really happy with it. I like the design, and I love the yarn, but it just felt like they weren't happy with one another. Plus, I had that massive tangle to deal with. So, I slept on it Saturday night, fought my way through detangling on Sunday afternoon, and finally decided that I really wanted to do something else with the yarn. So, I ripped out the 6 inches or so that I had finished, and Kris helped me wind it up, and I cast on for the Candleflame Shawl. I really loved this pattern when I saw it, and the fact that I had the yarn in the same color sort of hinted to me that maybe this was what it should be. I think I'm going to give it to my Mom, because she was really admiring the Turquoise Splendor color the one day when I was showing her the KnitPicks site. The pattern calls for 3 skeins, and I actually have 4, so I might make it longer, since Mom is a little taller than I am. Still debating that, though. I do still have the same yarn in the Flower Garden color (originally bought for HushHush, but too skinny to get gauge), which will possibly become the Tank Top, take 2, or maybe a Candleflame Shawl for me, if I decide I like the pattern.
Speaking of HushHush, I swear I am casting on for it one of these days… I just have to stop getting distracted by pretty sock yarn and lace. Maybe tonight while we watch the TiVoed season premiere of The 4400, possibly followed by the season premiere of The Closer. I think it is hilarious that I mocked both of these shows when they were first advertising them (I mean, come on, alien abductees? And what was with them showing Kyra Sedgwick doing nothing but saying "Thank yeeeeeew"?), and I've become a major fan since then. Totally eating my words there, and totally ok with it. If you haven't checked them out, you really should.
Oh, and my California-based cousin Beth had her baby girl Anna Elizabeth on the 1st of this month. By an awesome stroke of luck, the quilt I made for her acutally matches her bedroom! I talked to Beth the other day, and everyone is doing great. Hopefully, they'll make it home at Christmas this year, and we'll get to meet the baby.