Okay, I can't believe this, but I finished Kris's pirate socks in one week! Why is this so amazing? Because there is something special at the top of the socks:

Check it out – that's Fair Isle. (Okay, okay – technically it's stranded colorwork) But the point is – I did it! I made it work! And there is enough give that he can get them over his heels!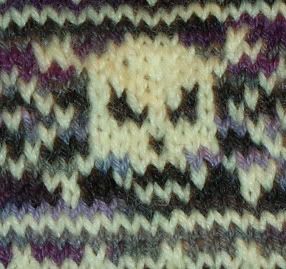 And check out the detail on the skull! (Guess who found the macro function on her camera!).
One last shot – actually on hubby's feet:

And now I just have to decide what I am going to make with my new Socks That Rock. The pattern that came with the mailing is cute, but not really me, so I'm debating what to do instead. At this point, I'm considering Broadripple, Crusoe, Falling Leaves, and Pomatomus.
Speaking of cameras, hubby finally broke down and bought a digital SLR last night. He's been talking about it for several years, but watching Kir's husband Lionel using his last Friday at Kennywood*, he just couldn't stand it any longer. So, he bought a Nikon D70S, which even I can tell is a lovely piece of machinery. He's going to be playing with it for a while. He might even do a little yarnography to try a few things. =) Once he's got some stuff posted, I'll put up some links.
*Regarding Kennywood – we had an amazing (although decidedly damp) day, and we have a bunch of pictures. At the moment, though, they are on Kris's laptop and I haven't had a chance to upload them. I will – I promise.