I guess it comes from having grown up in Pittsburgh and later lived in Meadville (which involved trekking through Edinboro to Erie to get to a real mall), but since we moved to Richmond and now Maryland, I just can't take most of the "Major snowstorm coming" weather reports seriously. I mean, come on – the first year we were in Richmond, we got up one Saturday morning and decided to make pancakes. Kris ran to the store to grab buttermilk and syrup, and the place was mobbed. Why? It had "snowed" overnight – a DUSTING. You could STILL SEE GRASS. Puh-lease.
So, when they were calling for snow yesterday and last night, I sort of held off believing that we would actually get anything significant. It did start snowing yesterday afternoon, and the dogs were out playing in it for a bit last night:

So, I got up this morning, not sure of what I was going to see. Turns out, we got actual snow! Wet, heavy snow that seems like it is putting stress on some of the power lines, because we've had a few flickers this morning.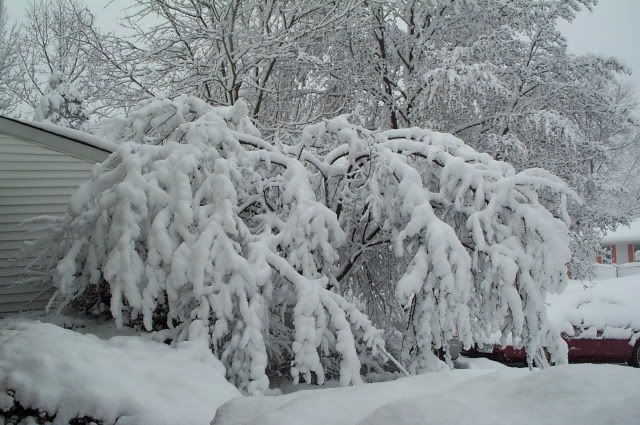 In fact, the tree by our garage has taken on an interesting shape. It is a Japanese maple, and normally stands pretty much upright. Today? Not so much. I just hope it is ok and doesn't take any damage from the stress on the branches.
The nasty, falling-down, we-need-to-get-rid-of-it shed in the backyard actually looks almost picturesque. The snow covers a lot of faults.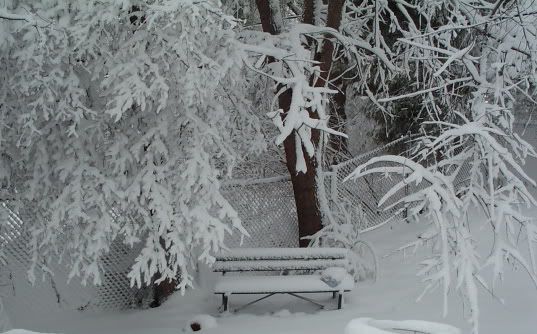 I also took a picture of the bench by the tree. This is the one where I took the pictures of the yarn for my Olympics sweater.
So, yes, it's very pretty outside. It's not bitterly cold, which is nice. I was planning on making a trip to Stitch DC's Georgetown location for their first anniversary sale today, but I think I'll be staying home instead. Not that I can't drive in this, or that I think Jen can't (since she was actually going to drive), but I'm not sure how much I trust the people who DIDN'T grow up in the more northern sections of the country.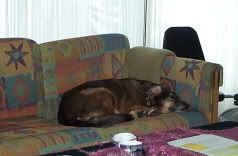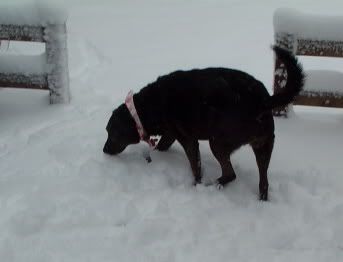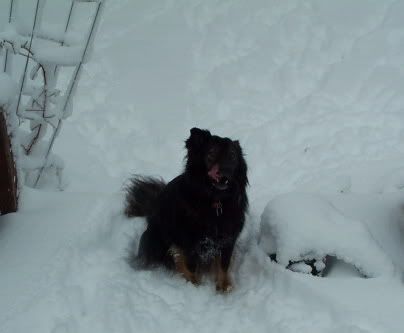 It's ok – I can just watch my puppies play outside from time to time.
Or, you know, sleep on the couch while I work on my sweater.