So, I decided to make a run by Total Crafts in Bowie last night, just to see if they still had anything left in their store closing sale. They had one dump bin of yarn left, which was surprisingly free of the typical cheapie squeaky acrylic, and I made a pretty good haul, all of which was half-price.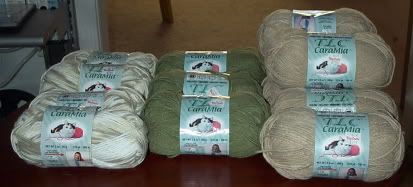 I got 13 skeins of TLC Cara Mia in three different colors – Sandy, Olive, and Tan. No idea what it is going to be yet, but I really like the colors, and since it looks like this has actually been discontinued anyway, I figured I might as well pick it up. I am trying very hard to keep from going back before they close on the 22nd to pick up any more.

I also found a fair amount of sock yarn. And by "a fair amount", I mean that I bought 16 skeins of Patons Kroy Sock (in Mercury, Muslin, Newport Tan, Flagstone, and Orangina) and 4 of Bernat Sox (in Orange Hot and Aqua Hot) I've got patterns picked out for most of these. Heaven knows when they will actually get made, but at least they have a purpose!
I think I have overcome my knitting ennui of the last week or so. I've made some really good progress on my Ene's Scarf project. I'm almost halfway through it, and it is coming out quite nicely. I'd take a picture, but it is lace and therefore looks cruddy since it hasn't been blocked yet. Maybe if I feel inspired to pin it out later. =)
Thank you to all the Knittyheads who made swap offers from my last post. I am going to go pick up boxes and envelopes today, so everything should be going in the mail tomorrow. I am looking forward to the goodies you are sending me! (If anyone is interested, the Bernat Satin and Blue Sky Cotton are both still available. I may add some more eventually, but for now, that's it.)