I finished Kirsten's Cozy today. This is meant to be a surrogate hug, since I can't be there with her. I hope that she will be able to sense the love and concern that I was feeling for her as I made it, and that it will provide her some measure of comfort in a really difficult time.
I am really happy with how this turned out. The pattern really is lovely, and the yarn is a total dream to work with.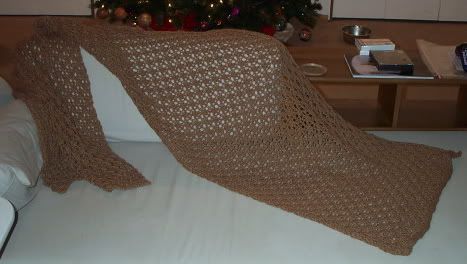 I used 10 balls of KnitPicks Andean Silk in Cinnamon, and just kept working the pattern until I had just enough yarn left to do the final three garter stitch rows and bind off, so it's pretty long. I have a tiny ball left. (About 6 grams, which amounts to about 11-1/2 yards).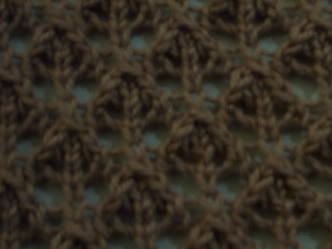 It blocked really well, and the stitch pattern opened up beautifully. The pattern doesn't really stress the need to block this, but I think the pattern really benefits from it.
I am enough in love with this yarn now that I think I am going to make my own Cozy from it at some point (possibly even in one of the Twist colors, but I'm not sure if the colors will obscure the lace pattern), and I think it is what I am going to use to eventually make Tubey. That might be a better place to work in some of the Andean Silk Twist, actually – pick one and then use the coordinating solids for the other colors.
I also finally got a picture of my Super-Easy Legwarmers, for the "Cover Your Ankles" KAL. I mostly worked on them over Christmas at my folks' house, and finished them up on New Year's Eve day, just in time to wear to Hyon and Drew's for the NYE party.
Cascade 200 in 9460 and KidSilk Haze in "Drab". I did both at once, magic-loop style, and was going to keep going until I ran out of the Cascade, but I got impatient (and tired of the 1×1 rib), so I decided to make them shorter, perfect for under the jeans without getting too bulky. I could probably have done them both with less than one skein of the 220. They were fun, and I think I see at least one more pair of legwarmers in my future, but I really need to get some other stuff finished up first. That, and my to-do list is already kind of ridiculously long.