Today's title courtesy of marymac. (In chat last night, referring to "Can't Help Lovin' Dat Man" from Showboat.) It was too funny not to be quoted.
So, since I am thisclose to finishing the Satchel for Dad (The strap just needs to dry and be attached), I am looking ahead to post-Christmas knitting. Yes, I know I still have the Retro Throw to finish, but I wanted to bask for a moment. The blanket is still #1 priority on the list, followed by a Cozy I am going to make for my very dear friend Kirsten, who lost her 6-month-old baby boy 10 days ago.
I spent some quality time with my stash list today, looking through the yarn I own and the patterns I want to make, and I was actually able to match up some combinations. New Year's Resolution #2 for me is going to be to try to either USE what is in my stash, or trade/give it away, so that I am not buried under quite as much of a pile of "I have no idea what that is going to be". (Resolution #1 is to get involved with a community theatre again. I really miss it.)
– I have decided that the pink and purple SWTC Bamboo that was at one time going to be a Clapotis is now going to be a cape. Specifically, "Dawn of the Cape" from "Ponchos & Wraps – a Knitter's Dozen".
– The Classic Elite Flash in Cactus Flower is now designated to turn into Festive from the newest Knitty. It should be a nice Spring/Summer top.
– I finally got Last Minute Knitted Gifts from the library, and I confirmed that I have enough of the Noro Cash Iroha that I found on sale to make THREE Hourglass Sweaters. One each will be made of the light and dark purple yarns, and I am combining the green and camel to make a striped one. Here's hoping I like the design actually ON me. =)
– When Wendy (The fabulous Zib of the knittyboards) posted the pattern for Serena, I knew I had to have it. I just didn't know what I was going to make it from. Until I found the Wool in the Woods Capri that has been sitting in my stash for the last 10 months or so. So, I'll be making TWO Serenas (Serenai?), one each in Oslo and Sundance.
– Since I joined the Legwarmer KAL, I thought maybe I should actually, you know, MAKE some. So, I am using the "Super-Easy Legwarmers" pattern from the aforementioned LMKG, and doing them in a light sagey green Cascade 220, paired with Kid Silk Haze in Drab. I think they will be very pretty. I may take them along when we head to Pittsburgh for Christmas, since they should be fairly mindless knitting, and therefore good for the car ride.
There are one or two other projects I am going to do, but I have to dig out and photograph the yarn for them first. =)
Speaking of, Meeko decided to join me in the craft room while I was taking pictures. Ain't she cute?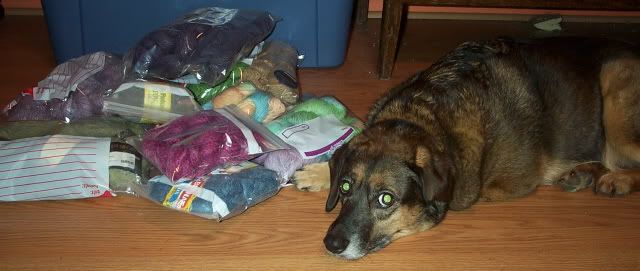 Not sure if I will post again before we head out, so if I don't, Happy Holidays to everyone!