Yay! I finished it this morning, and sent Jeff an email to let him know (and to get his address, which I can't find at the moment). So, here it is.
The details – Knit Picks Wool of the Andes dyed with Cherry, Berry Blue, Grape, Ice Blue Lemonade, and Fruit Punch Kool-Aid, and felted, with beads from my local craft store. Designed based on Jeff's specs for his girlfriend, with a 4′ strap, and two pockets, one on the front, and one on the inside.
Also, the cone of bright green Cascade220 that I ordered from Little Knits arrived last week. First of all, Sue has the greatest customer service I've ever dealt with, and I cannot recommend her store enough. The cone of 220 came with free shipping, and I must have goofed up the code, because it didn't show up on my order. I was figuring I would just email her and see if she could do anything about it, but before I even had a chance, SHE emailed me about it, and took the shipping off my bill. That rocks! I also ordered some Madil Kid Seta that she had on sale, and it turns out that two of the colors were out of stock. She held my order to check with me to see if I wanted to substitute any other colors, and sent me a free ball of yarn as an apology for the delay on the order. Is it any shock that I have already ordered from her again?
At Monkee's request, some appropriately silly pictures of the cone of greenness (which is going to become a Samus at some point in the future)

Could THIS be what killed the Wicked Witch of the East?

The Emerald Yarn City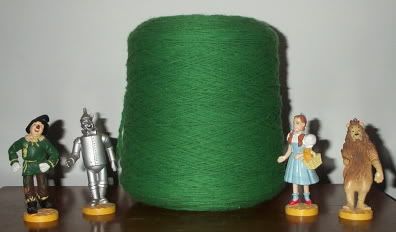 The Great and Powerful Wizard of Yarns (How handy that I collect Wizard of Oz stuff, no?)
And, since we have had pictures of both Simba and Rajah lately, here is Rowena, standing guard at the front window.

Oh, and I've done one more square on the Retro Afghan. Might actually make it by Christmas. Here's hoping.