So, I got this gorgeous yarn from my SP on Thursday, and I started playing with it that night. I decided to make the Misty Garden Scarf from Scarf Style, striped with the four different colors. After a Friday morning at the vet's office for Ginger's shots and checkup, and a Saturday afternoon sitting in a bowling alley with my husband (who was bowling – I was not), I have now achieved this: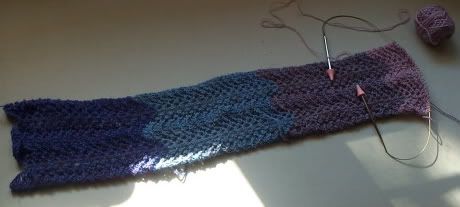 Seriously – this is some lovely yarn. Nice and soft and springy, and it is showing the pattern really well, even without being blocked yet.
I got an email from my SP saying that she had some trouble letting this yarn go, and I do not blame her – I am in love with it!
I think I'm going to get two stripes of each color. I am 1/3 of the way through the pink stripe, at which point I have to decide if I want to reverse the order so that the halves are mirrored images, or keep going and change to the dark purple. Either way, I'm going to have a little bit left over, so I will be debating fringe. Or maybe gloves with lace cuffs on them.
Decisions, decisions….