So, yesterday, I finshed casting off my Kiri shawl and blocked it. This does it, folks – I adore lace. While I had been working on it, I would stretch it from time to time to get an idea of how it would look when it was done, but I had NO IDEA what the reality would be. I washed it, and spun it in my salad spinner (Thank you Knittyboard denizens for that idea), and pinned it out on my bed.

That's a queen-sized bed – the neck edge goes darn near corner-to-corner on it!
I put one of our floor fans (left over from the great a/c death of this past summer) so that it blew on it, and the thing was dry in less than two hours! (Go, skinny laceweight yarn!)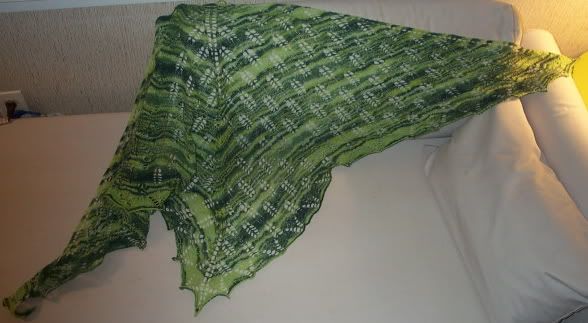 Once I unpinned it, and draped it lovingly over the couch that models most of my knitting, I was rewarded with this:
This is a closeup of the stitches, and this is the edging.
To recap: Kiri Shawl pattern from All Tangled Up, in KnitPicks Gossamer in "Leprechaun". Done on size 8 Addi Turbos because I apparently didn't read the pattern fully and missed that the shawl was supposed to be knit on 7's, and the 8's were for the bind off. I did 12 repeats of the second pattern chart. Also, I didn't do the bind off that the pattern calls for, because I was having trouble getting it to look right. It was also a little too tight, even after I went up to a 9 to bind off. So, I did EZ's sewn cast off, and I LOVED it. I am REALLY happy with my first big lace project. Gimme more!
This afternoon, my lovely mail carrier brought me a box. A box from my darling Secret Pal, who had told me that a box was on its way. Showing amazing restraint, I opened the box carefully to show:

Four hanks of the prettiest fingering weight wool, in four different, each-lovelier-than-the-next colors. According to the note that was in the package, these are spun and dyed at a mill local to my SP. Two of the colors remind me somewhat of Knit Picks Shadow, although this is definitely a heavier yarn. Left to right, they are: a pale purple, similar to Oregon Coast, but with a lot more pink and purple than the Knit Picks one; a deeper purple somewhere between Vineyard and Grape Jelly; a lovely dusty pink; and a really pretty blue with highlights of green and red in it. I am going to be looking for a pattern for these tonight.
This is a ball of Reynolds Calico Kitten in a combination of colors that immediately struck me as very similar to the Cascade 220 Quatro I bought a couple of weeks ago and was winding this afternoon to start making into a Kepler. I am going to have to use it in the Kepler – it is just too perfect a match not to. Maybe along the edges of the cable bands.
And finally, something that I am hiding from hubby immediately – Halloween candy! A lovely little assortment of goodies that might already be missing a Baby Ruth or two…
Thank you SP! I can't wait to find out who you are so I can thank you directly!