Ok, not a LITERAL new home – we didn't move or anything, but a new home for my blog. I decided that I really wanted to be able to post liks and buttons and stuff in the sidebar, and I can't do that on LiveJournal, so I've moved here. The plan is to move all my old posts, bit by bit. EDITED – All moved! Quick and painless.
That, and I have actual knitting news. I FINISHED IT. I finished the unfinishable sweater. The cables that would not end. The self-designed sweater for Kris. You want proof? What, you don't trust me? Ok, here it is, in all its finished glory:

I actually managed to finish it in time for his birthday, although it was too warm for him to wear it. Did I mention that it IS DONE?
Background on this sweater, just so you understand why I am so blinkin' happy. About a year ago, I was starting to get really serious about knitting and leave my crochet phase behind. So, I offered to make Kris a sweater. We looked at some ideas, and he settled on the "Knit-Down, Made-to-Measure Jumpers" pattern from Sally Melville's The Knit Stitch. Then he picked the yarn – Lion Brand Wool-Ease in "Forest Green Heather". I started it. I got 2/3 of the way through the front, and there was one small problem. I HATED the stitch pattern, and I was fairly sure that the neck was going to be WAY too small. So, we discussed it. We looked at the article on knitting by percentages (OK, just I looked at that), and we determined that I could design a sweater to his liking. His liking involved cables. No problem – I like cables. So, I swatched (!), I measured, I drew. I came up with this: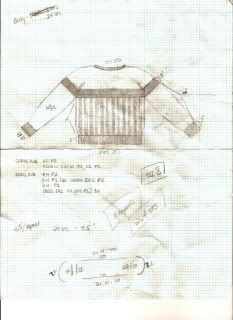 Not all that exciting, I know, but it was my very first design. I picked up a couple more skeins of Wool-Ease in "Wood" because 1. I was afraid of running out of yarn, and 2. I figured I could use that color change to help blend the change from the cables to the stockinette, because I was NOT going to attempt to do the cables through the raglan decreases.
Basically, the ribbing is a 2×2 rib with a 1/1 cable for every other rib, and the body is a 4×2 rib with a 2/2 cable for every other rib, with alternating cables crossing off 2 rows from each other. (Does that make sense?)
What did not occur to me while planning this gift of love to my husband was that cables? Are SLOOOOOOOOW. Pretty, but they don't exactly cruise along. As of June 29th of this year, I was about 8″ into the body. Yes, that is after something like 6 months of working on it. I kept getting distracted by other (smaller) projects. I would work on it for a while, and then put it aside because I felt like it wasn't growing at all. About a month ago, I decided to work on it in earnest, with the hope that it would actually be done in time for him to WEAR this year. As of two weeks ago, I finished the body (up to the stripe) and started the sleeves. They took me about 5 days, including some time sitting in the movie theatre before both opening-day showings of Serenity that we went to with Jen. Starting last Monday-ish, I joined the sleeves to the body, and started working the decreases. Finally, Wednesday night, I finished. Happily, he loves it. Now if it would just get cold enough for him to wear it. =)