Today has been an awesome day. Kris and I were out running around doing some errands, and I decided to stop in to Old Navy, since their jeans are on sale, and, well, a girl can never have too many pairs of jeans, right? So, I was pretty sure that the diet was going well enough that I could drop from the men's 38-32's that I had been wearing to a 36-32. So, I tried them on, and they fit. On a whim, I decided to go look at the women's jeans. I haven't been wearing women's jeans for a while because with the weight gain and my odd thick-waisted build and whatnot, they just didn't fit me right. I picked up a pair of 18's (which would have been too small a few weeks
ago), and a pair of 16's just for shits and giggles. The 16's FIT. I could not believe it. I was SO excited! So, of course I bought 2 pair.
So, we finish doing the shopping, and I get home to find a package for me in the mailbox. I got my very first Secret Pal package! Yaaaay! And wow, is my SP good at stalking me! This is what
was in my package: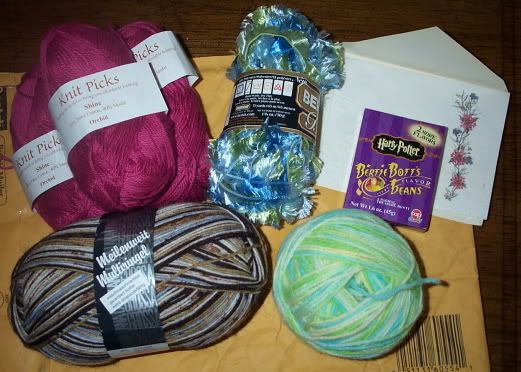 That would be THREE skeins of KnitPicks Shine in "Orchid", which is the most awesome shade of deep hot pink, and so soft that I keep petting it, a skein of lovely Lana Grossa sock yarn in blues and browns (yummy warm tootsies! yay!), a skein of Bernat Boa (which happens to be
my very favorite novelty yarn – I'm not sure HOW she knew that!) in "Mocking Bird", and a ball of blue and green wool that she dyed herself! Kris was very impressed with that, I must say. As
am I – it's so bright and pretty, and I can't wait to use it. She also included some Bertie Bott's Every Flavor Beans (perfect for the Harry Potter fan like me), and a lovely note. I'm still bouncing over the wonderful goodies!
Thank you so much, SP! You are too cool for words!